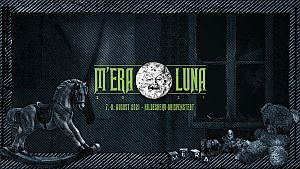 This year's festival is cancelled. Here is the statement of the organizer: "We didn't want to admit it. A second year without you? A second year without a family reunion? Unthinkable! So, after the cancellation last year, we threw ourselves headlong into the preparations for the M'era Luna 2021, firmly inspired by the most beautiful M'era Luna that had ever existed. We got a tailwind from our artists, who without exception confirmed again, and you, who kept their tickets. And recently the world situation didn't look as dark as it has been all this time...
But the clock is ticking. We had to make a decision. And that means: M'era Luna 2021 will be postponed to the coming year.
Fortunately, the number of Corona cases has fallen significantly in the last few days and weeks, but we are still concerned about the spread of the delta variant. In Great Britain, for example, this has led to the so-called 7-day incidence currently increasing again significantly. A festival implementation would therefore currently only be possible under considerable restrictions, which in our opinion would not make the festival what it should be and what you appreciate. We have looked for solutions in expert committees with other organizers, hygienists and lawyers, but none of them would currently turn a M'era Luna into a M'era Luna that you deserve. We struggled with each other for a long time, but decided to postpone the M'era Luna for a year for the reasons mentioned and ultimately to protect the health of our guests, employees and artists.
Even if the light at the end of the tunnel slides back a long way - it is still a light! In any case, we can hardly wait to open the gates again on August 6th to 7th, 2022, to scare the bands onto the stage and to shake the hangar. We are looking forward to the black family, the tent city, the hellos on the runway and the first cool mead. And we already have the soundtrack for it, because with the exception of a few artists, all the announced acts from 2021 have confirmed again! Look at: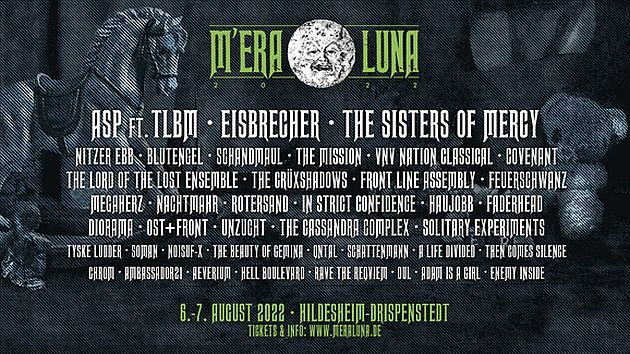 And what about the tickets? The good thing is that you can simply use your 2021 tickets for the 2022 festival and don't have to do anything else! For all further questions we have put together an FAQ again, which hopefully answers all the important questions for you people out there: wwwö.meraluna.de/de/verschiebung/faq
Dear black folk, hold on. We do it too. And next year we will celebrate so obese that the world will remember it for a long time!"
Source: Press Release