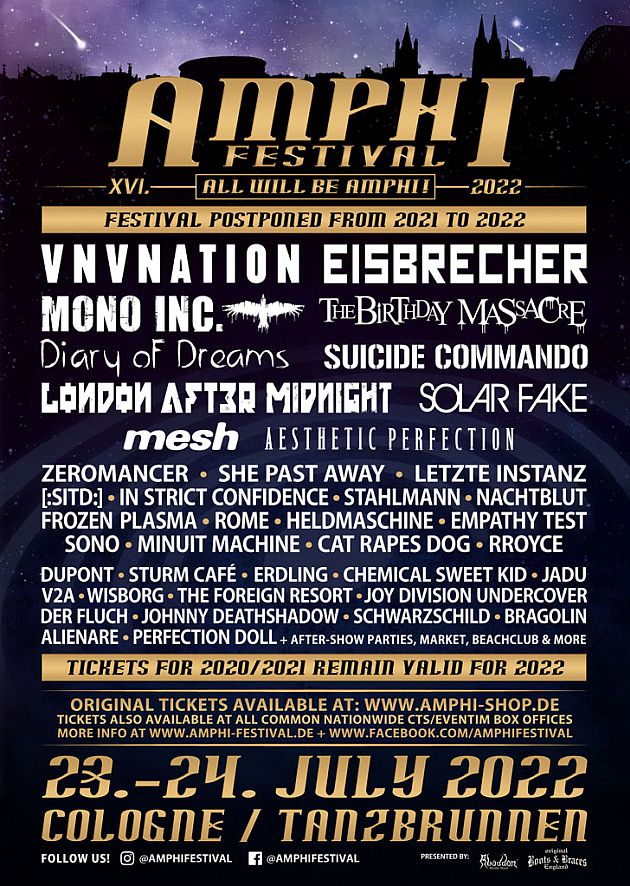 The line-up for the next year's Amphi Festival is finalized. Just read what the promoter has to tell you:
"Dear Amphi Family,
before we get into the nitty-gritty, we'd like to express our sincere gratitude for a little moment first: YOU ARE ABSOLUTELY PHENOMENAL! Thank you for the incredible number of positive responses, heartening words and all the positive energy you sent us. The decision to postpone the Amphi Festival from this year to 23 & 24 July 2022 was far from an easy one and we feel absolutely humbled to have such a great community supporting us - actually the best we could ever imagine!
As promised, today's announcement deals about the line-up for 2022. Again, we've put our shoulders to the wheel, to preserve the current (2020/2021) line-up for next year. In the vast majority of the cases, we succeed again. Only with OOMPH! and SCARLET DORN we encountered two bands this time, for whom scheduling reasons prevented them from moving with us, so they ultimately had to cancel their participation. In return we are excited to announce two very powerful replacements for 2022. MONO INC. and ERDLING will step in for their fellow colleagues in worthy manner.
With all that settled, Amphi will move into 2022 with the following full line-up:
VNV Nation + Eisbrecher + Mono Inc. + The Birthday Massacre + Diary Of Dreams + Suicide Commando + London After Midnight + Solar Fake + Mesh + Aesthetic Perfection + Zeromancer + She Past Away + Letzte Instanz + [:SITD:] + In Strict Confidence + Stahlmann + Nachtblut + Frozen Plasma + Rome + Heldmaschine + Empathy Test + Sono + Minuit Machine + Cat Rapes Dog + Rroyce + Dupont + Sturm Café + Erdling + Chemical Sweet Kid + Jadu + V2A + Wisborg + The Foreign Resort + Joy Division Undercover + Der Fluch + Johnny Deathshadow + Schwarzschild + Bragolin + Alienare + Perfection Doll + supporting programme!
On top of that let's have a quick look at our additional events for next year. CALL THE SHIP TO PORT at MS RheinEnergie continues with its original line-up, featuring FORCED TO MODE, WELLE: ERDBALL and S.P.O.C.K and the OFFICAL AMPHI-PRE-PARTY on Friday night at the Theater remains unaltered, too, including the DJs RONAN HARRIS, SVEN FRIEDRICH, ELVIS and MSTH!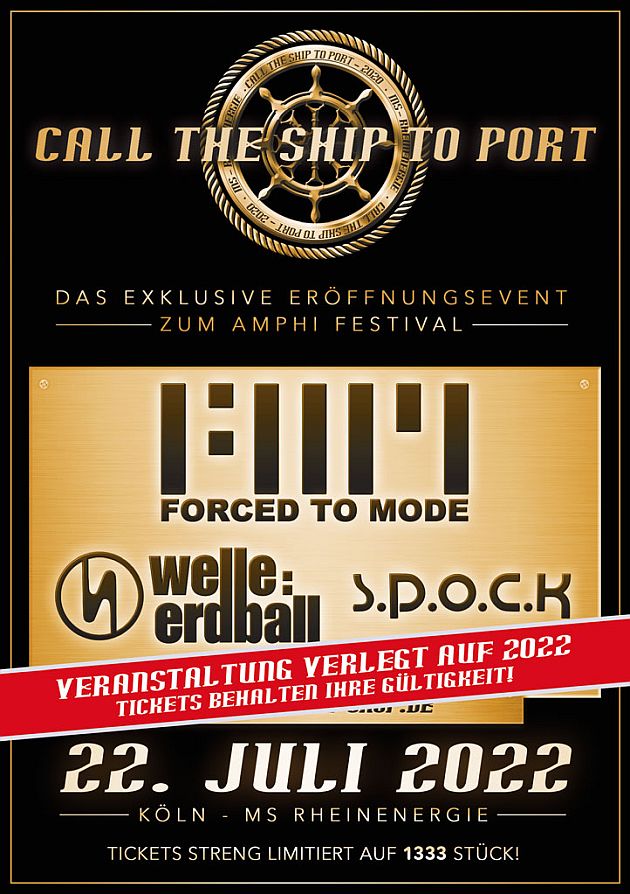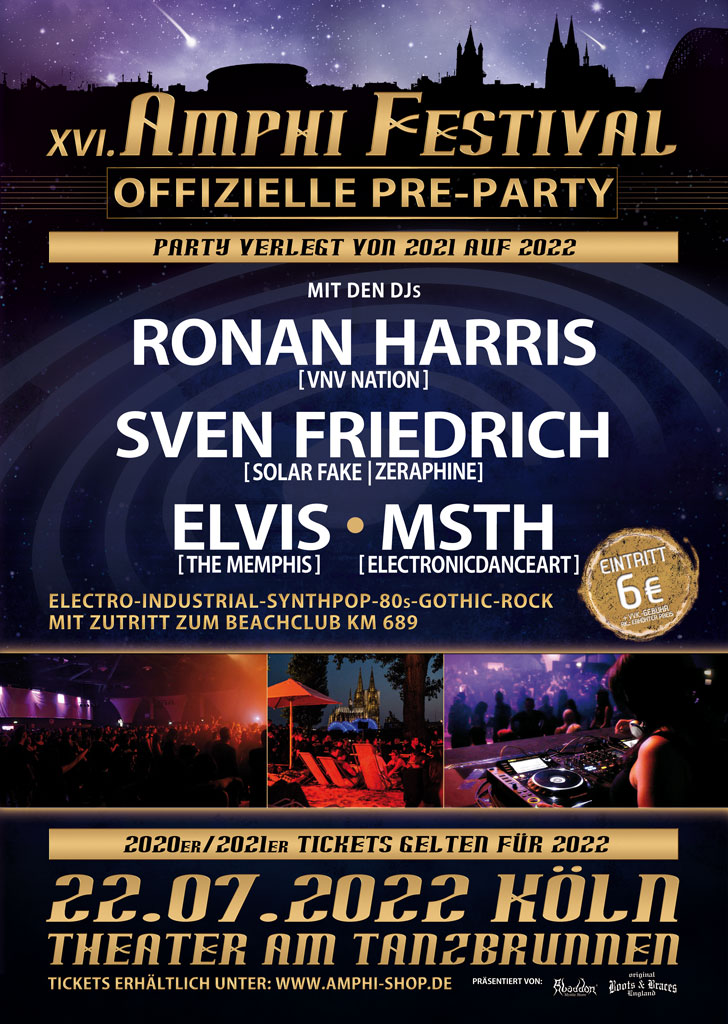 All in all good news! And the coolest thing: if you already own your ticket(s) for 2020 or 2021, they automatically remain valid without any further ado! Now let's just quickly find a new home for the remaining Amphi tickets, before we get to celebrate this festival together, that shall unleash not double but triple the party! As usual tickets are available at www.amphi-shop.de or via CTS/EVENTIM, including their local box offices. The remaining ticket contingent is limited - we recommend you have at it sooner rather than later!
Kind regards and stay healthy!
Your Amphi Team!"
Source: Press Release