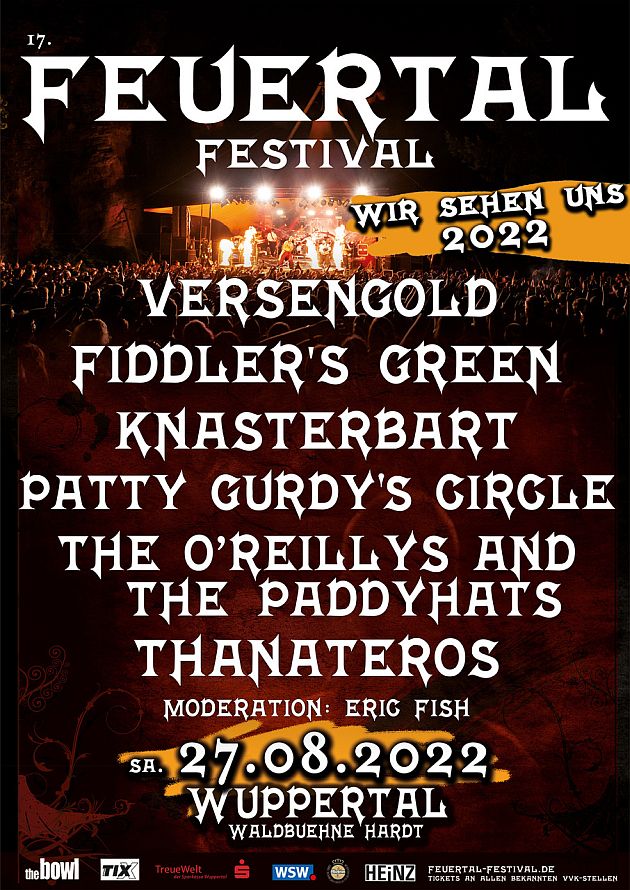 Line-up comes with small changes - FIDDLER'S GREEN latest confirmation - tickets remain valid - new date: August 27, 2022
If you buy a ticket for the Feuertal Festival in Wuppertal, you buy a ticket for an atmospheric journey back in time to a distant, long-forgotten world. Unfortunately, due to the pandemic, the atmospheric trip takes now place in 2022: the festival is postponed for another year to August 27, 2022 (planned date this year: August 28, 2021). The campsites are open from Thursday, August 25th to Sunday, August 28th, 2022.
The line-up remains as planned, with one exception. So will be part of the party in 2022: VERSENGOLD, KNASTERBART, PATTY GURDY'S CIRCLE, THANATEROS, and THE O'REILLYS AND THE PADDYHATS. Unfortunately, SCHANDMAUL are not part of the gang. For them, however, the mood guarantors of FIDDLER'S GREEN step in.
The Folk rockers from Erlangen, who skilfully integrate style elements from Punk, Ska, Metal and Reggae into their rousing Irish Folk, have long since established themselves as a fixture in the live scene and regularly provide boiling dance pits in front of the stage.
Already purchased tickets remain valid. For the visitors of the Open Air, which has been sold out in advance for years, nothing else will change: medieval hustle and bustle, a breathtakingly atmospheric location and the who's who of the Medieval Rock scene. The open-air event on the Hardt Waldbühne, which is all about Medieval Rock and a breath-taking historical atmosphere, has long enjoyed cult status both inside and outside the scene.
Next to the main stage, there is a traditional medieval market that invites you to rummage through times past. In addition to handicrafts and all sorts of beautiful things, there is also a splendid gourmet mile, which takes care of the physical well-being in the spirit of medieval hospitality - for a whole two days the area in the heart of Wuppertal is transformed into a colourful hustle and bustle. And with a little patience, it will soon feel like that again.
17th edition of Feuertal Festival

Versengold - Fiddler´s Green - Knasterbart - Patty Gurdy´s Circle - The O´Reillys And The Paddyhats – Thanateros
Doors open: 01:00 p.m. / Start: 02:00 p.m.
Day ticket: 44.00 € + presale fee
Camping ticket: 16.00 € + presale fee / Freibad Mirke
From Thursday, Aug 25, 2022 04:00 p.m. to Sunday, Aug 28, 2022 02:00 p.m.
www.extratix.de / Eventim / www.wuppertal-live.de / www.adticket.de
Original tickets are available from Extratix, the Ticketzzentrale and the Haus der Jugend Barmen in Wuppertal.
Event: www.feuertal.de
Source: Press Release