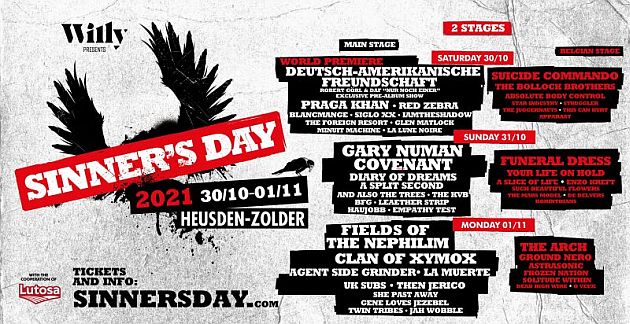 Sinner's day faces 3 cancellations : The Mission, The Stranglers and Laibach. The official reasons are posted on the website. THE MISSION and THE STRANGLERS will both be part of the Sinner's Day Special 24 June 2022 (Ostend). Promoters received, in writing, official confirmation of both bands. They are also announcing on day 1 of Sinner's Day Special 2022 the unique presence of NOSFERATU!
All (and only the) persons with a ticket for 30/10/2021 are entitled to change their ticket for a SDS 24/06/2022 ticket. Once this option is chosen, the 30/10/2021 ticket becomes invalid. You can apply for this change by sending an email to
This email address is being protected from spambots. You need JavaScript enabled to view it.
. You will receive your new ticket before November 30th.
The replacements for the 3 bands are: On Saturday 30/10: SIGLO XX and as headliner the exclusive "world premiere" pre-album show of DEUTSCH-AMERIKANISCHE FREUNDSCHAFT. Read all about the forthcoming stunning album and this world premiere show on the website under "News". On Monday 01/11: AGENT SIDE GRINDER. For the full timeline, tickets and other info, please visit the website sinnersday.com.