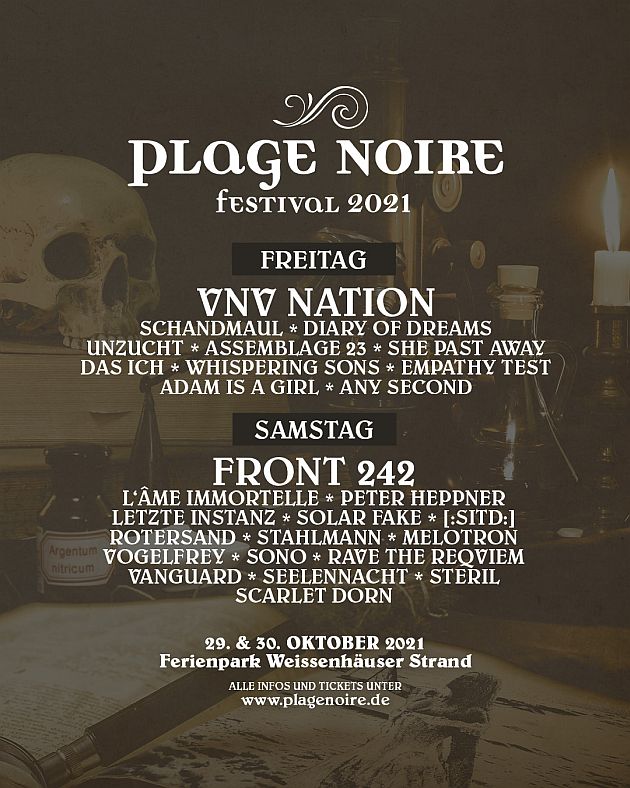 The indoor festival for fans of the black scene returns to Weissenhäuser Strand on October 29th and 30th, 2021. Recently, organizer FKP Scorpio announces nine more names and completes this year's line-up, for which a few last tickets are still available. The PLAGE NOIRE is currently planned as a 3G event (in English "vaccinated, recovered or tested"). All details on how this concept will be implemented will be announced as soon as possible after the ordinance is published on October 18.
The wave of confirmations is led by VNV NATION, known for their live shows full of energy and positive emotions. Also new are the synth melodist with unmistakable voice PETER HEPPNER, the EDM formation SOLAR FAKE, the Dark Rock band UNZUCHT and the Turkish Dark Wave duo SHE PAST AWAY. The exciting Future Pop act ROTERSAND and the Swedish Industrial Metal pioneers RAVE THE REQVIEM will also wrap the holiday park in dark tones. The line-up is completed by the London-based Synth Pop band EMPATHY TEST and the darkly atmospheric artist SCARLET DORN.
Due to corona-related tour postponements, FIELDS OF THE NEPHILIM, JOACHIM WITT, AESTHETIC PERFECTION, SPETSNAZ, MASSIVE EGO, FUTURE LIED TO US and NIGHTNIGHT are cancelled. A total of 27 bands can be experienced on three stages over the weekend. In addition, the audience can look forward to an extensive and detailed supporting program with readings by MARKUS HEITZ and CHRISTIAN VON ASTER, parties, autograph sessions, fashion walks and artistic productions.
At the moment there are only a few day tickets available. There is also a limited contingent of combination tickets including overnight stays. If you don't want to miss the festival, you can call the booking hotline +49 (0) 1806 006660 (€ 0.20 / call from German landlines, max. € 0.60 / call from cell phones) or at plagenoire.de/tickets. Secure your admission ticket.
Confirmed for PLAGE NOIRE 2021 are

Friday: VNV Nation | Schandmaul | Diary Of Dreams | Unzucht | Assemblage 23 | She Past Away | Das Ich | Whispering Sons | Empathy Test | Adam Is A Girl | Any Second
Saturday: Front 242 | L'Âme Immortelle | Peter Heppner | Letzte Instanz | Solar Fake | [:SITD:] | Rotersand | Stahlmann | Melotron | Vogelfrey | Sono | Rave The Reqviem | Vanguard | Seelennacht | Steril | Scarlet Dorn
Source: Press Release