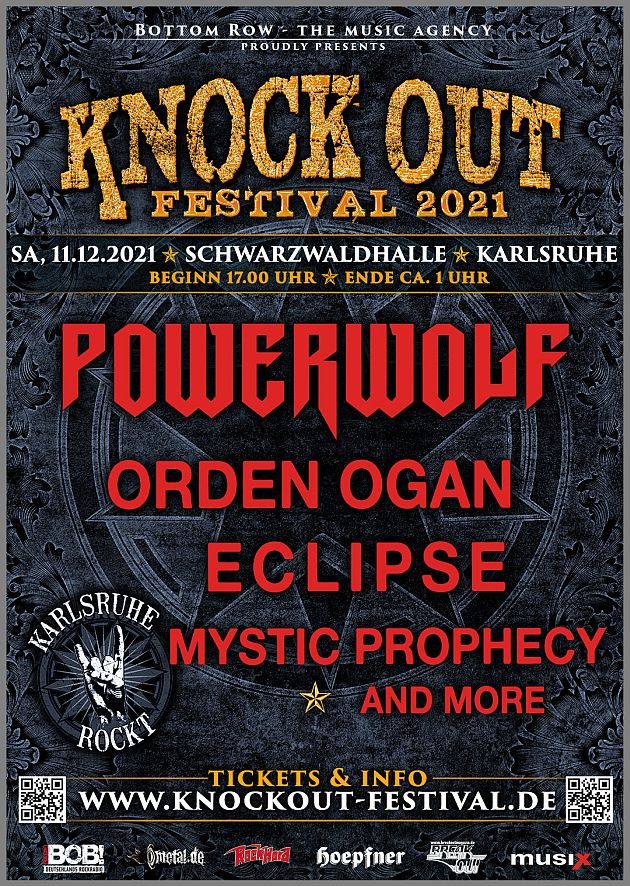 On December 11, the largest indoor Metal festival in southern Germany will take place again in the Schwarzwald-Halle in Karlsruhe - POWERWOLF have been confirmed as headliners. How long did Rock fans have to wait for this news - a real exceptional festival is looming! Last year the organizers were forced to communicate the pandemic-related relocation, but this year there is probably the best news to report: The popular indoor Rock festival is taking place! As one of the first festival organizers, the Karlsruhe agency Bottom Row decided to get the live business going again after the lengthy forced break. At the festival, which will take place as usual in the Schwarzwald-Halle, full capacity utilization can be expected despite the 3G or possibly 2G rule that has now become common. Tickets already purchased from 2020 will remain valid as promised.
The line-up for the festival comeback 2021 is more than impressive: POWERWOLF, ORDEN OGAN, ECLIPSE and MYSTIC PROPHECY have already been confirmed. Two more acts will follow. The news about the appearance of POWERWOLF should especially please the fans, because the "wolves" had to postpone their own tour to the end of 2022 due to the pandemic.
POWERWOLF have long been one of the most successful Heavy Metal bands internationally. They have climbed to the top of the German charts several times, received numerous gold and platinum awards, their concerts are regularly sold out and their slogan 'Metal Is Religion' has made them the high priests of the genre. The appearance at the Knock Out Festival will be their only one this year and also the very first live show for their new album 'Call Of The Wild ', which was released in July this year.
With ORDEN OGAN one of the currently most highly traded German Metal becomes acts play in the Schwarzwaldhalle. The current album 'Final Days' of the Power Metal band, which was founded in Arnsberg in 2008, entered the official German album charts at #3 in March, and the song 'We Are Pirates' was featured in the RTL trailers for Formula 1 in 2010. The band will present material from their meanwhile six albums.
ECLIPSE from Sweden will release their new album 'Wired' on October 8, 2021 which will certainly follow on from the great success of their predecessor 'Paradigm' and the hit single 'Viva La Victoria '. Around 30 million streams, hundreds of appearances, including Wacken, Monsters Of Rock Cruise and Rock Fest Barcelona as well as joint appearances with the SCORPIONS and AEROSMITH on various continents speak a clear language.
Furthermore, with MYSTIC PROPHECY a high-quality opener has been confirmed. The band from the Swabian town of Grönenbach has been a guarantee for timeless, sophisticated Power Metal for 20 years, which is more based on American than German models. The latest work 'Metal Division' was released in January 2020 and reached number 20 in the German charts.
The complete line-up including running order will be announced shortly. Tickets for this year are available in advance, for example directly in the Bottom Row Shop at: https://bit.ly/2UNl0MY. Festival: www.knockout-festival.de
Source: Press Release