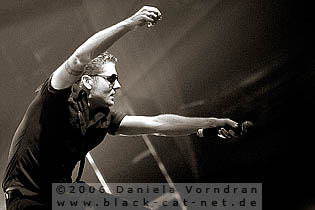 Sisters and brothers,
Tinitus proudly presents:
NITZER EBB - In their only swedish concert 2007 and performing new songs.
Saturday 22:nd September 21:00-03:00 Stockholm University
No band has made a mark so obvious to follow among their musical brethren. And no one has gotten anywhere close to the one and original Funk Agression act. We present to you with no further ado the synth band, which made a blazing performance at the Tinitus festival last year and now are back to perform for the only time in Sweden 2007, and at the same time presenting new songs. Be sure not to miss Nitzer Ebb in an exclusive concert.
Both before and after the concert, Tinitus holds one of the most headstrong EBM, Synth and Techno dancefloors in Stockholm. And the student's bar make sure you get the best beer and drink prices in town. Bring your steel capped boots!
TICKETS

You must be at least 18 years old and carry ID to enter the venue. Tickets are bought online through Tickster.com, safe, cheap and fast. Every ticket holder to the Nitzer Ebb show will also recieve a discount code via email to the upcoming VNV Nation show. Website:
http://www.tickster.com/Events
Observe! The tickets are personal and we urge you not to buy them second hand, as they are easily falsified, though invalid. If you dont carry a creditcard, you may still buy tickets over the desk or postal order via:
Sound Pollution
Stora Nygatan 18
111 27 Stockholm (Gamla Stan)
Tel: +46 (0)8 10 66 60
http://www.soundpollution.se
You are invited!
The Tinitus Crew
Source: Newsletter /
WWW.TINITUS.COM