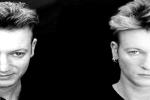 IN THE NURSERY is the Sheffield-based musical project centered around the nucleus of twin brothers Klive and Nigel Humberstone. ITN's musical history spans more than twenty five years and has constantly expressed their desire for progress and experimentation. Their sublime, cinematic music blends electronica, classical arrangements, orchestral percussion and soundscapes evoking a timeless quality.
ITN's music has been used on numerous film soundtracks and trailers including The Aviator, Interview with the Vampire, Along Came a Spider and The Rainmaker as well as the La Femme Nikita TV series.
Finally, with their latest album "Era" IN THE NURSERY will be back on German stages onwards 20th September 2007.
Sonic Seducer presents: IN THE NURSERY - "Era" Tour 2007

http://www.inthenursery.com/
/
www.wod.de
20.09.2007 D-Krefeld, Kulturfabrik (+ EGOamp)
21.09.2007 D-Rüsselsheim, Das Rind
22.09.2007 D-Lahr, Universal DOG (Dark Dance-Treffen)
23.09.2007 D-Augsburg, Kantine (+ Arcana Obscura)
24.09.2007 D-Erfurt, Unikum
25.09.2007 D-Leipzig, Moritzbastei
26.09.2007 D-Berlin, K17
27.09.2007 D-Hannover, Musikzentrum (+ Elane)
28.09.2007 NL-Dordrecht, Bibelot (+ Elane)
Source: Newsletter