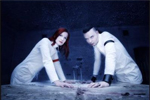 A NIGHT FOR VICTIMS - BENEFITCONCERT FOR CHILDS
Those VICTIMS of sexuell Violation
Sexuell violation on childs is one of the worse crimes in the world! And everyday the press present new information about this. We would send a signal against this!
We proudly present a benefit-concert at 10-13-2007 8:00 pm at the Panzerküche (Reisstraße 42) in Dresden. Four Euro of every saled ticket we spend the incorporated society: Verein Wildwasser Chemnitz e.V. - AG gegen sexuellen Missbrauch.
And all bands and dj´s will play for free.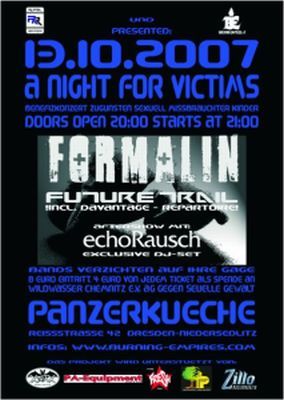 Informationen and tickets for this event:
The Line-Up:
Formalin
Future Trail (incl. davaNtage-Repertoire)
EchoRausch (exclusive DJ-Set)
Source: Press release