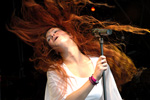 Dear friends,
Here's a new Nemesea Newsletter. We have lots and lots to tell you. Mostly good news but also some really sad news. Here we go!
Martijn
After four and a half wonderful years, Martijn has decided to leave the band. You can read
his explanation
on our website. We are very sad, but as it is his choice we can only accept this. We hope he will come and visit us now and then. We want to thank him for everything he has done for Nemesea. Martijn, we love you!
New website
As some of you have already noticed, our
new website
is now online! We are very proud of it. Steven has done an amazing job. We also want to thank
Matthijs Ronner
, who made the artwork (and also for the album, as you all might know). The new website has a couple of new sections. For example you can watch the new video's we've made on our page (go to media) and read all interviews, reviews and articles about Nemesea (mostly Dutch!).Please let us know what you think of it.
Manager
We are SO proud to announce our manager David Arden, ex-manager James Brown. He is an amazing person with a lot of skills and knowledge. We have a lot of faith in him. Together with co-manager/PR man Adrian Williams he will be the management team for Nemesea.
AT Productions
And more good news! We have signed a deal with booking agency
AT productions
for the Benelux. They work with Within Temptation and a lot of other well-known bands here in Holland (Kane, Di-rect, Van Velzen). We are sure to have a great cooperation. We hope to see you all on a lot of great gigs in the Benelux! Also watch the
video
on YOUTUBE about our meeting with them.
YOUTUBE
Come to the
new official Nemesea YOUTUBE account
, be our friend and be the first to see the new movies we will post on our account the next couple of months. There will be some great video's!
Love,
Manda, HJ, Sonny and Steven
Source: Newsletter