Amphi Festival - The Orkus Open Air 2008 first Bands confirmed - Tickets on Sale


The 4th Amphi Festival will take place on 19th and 20th of July 2008 - again at the Tanzbrunnen in Cologne/ Germany.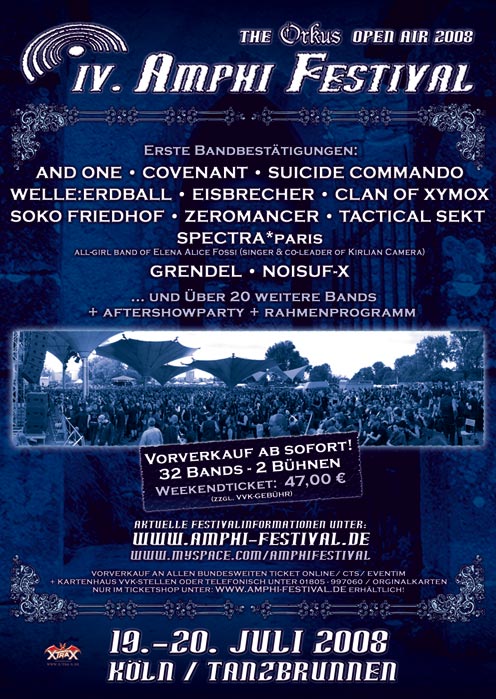 the first confirmed Bands are:
AND ONE/ CLAN OF XYMOX/ COVENANT/ EISBRECHER/ GRENDEL/ NOISUF-X/ SOKO FRIEDHOF - exclusive festival 2008 in germany ! / SUICIDE COMMANDO/ SPECTRA*paris - all-girl band of Elena Alice Fossi (Singer & Co-leader of Kirlian Camera)/ TACTICAL SEKT/ WELLE:ERDBALL/ ZEROMANCER + 20 further bands, aftershow parties
The Tickets are on Sale since 01st of October 2007 !

Original Tickets are available at the Amphi Ticketshop
(
http://www.amphi-festival.de/
)
Tickets are also available at Ticket Online, CTS / Eventim and Kartenhaus Ticket Offices, on the Internet at
http://www.dark-ticket.de/
or telephone Hotline +49 (0)1805-997060.
current Festival info:
http://www.amphi-festival.de/
or
www.myspace.com/amphifestival
Source: Press Release