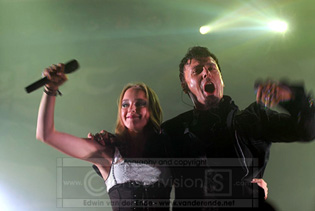 After the release of their great new album "Ghost Opera" / SPV, KAMELOT will hit the road again and will do shows in main areas of Europe. The album entered a lot of charts in different countries. For example: Norway #25, Sweden #29, Finland #35, USA #48, Netherlands 51, Germany #61, France #83, Switzerland #83, Greece #23, Japan #13, UK #24.
With the success of The Ghost Opera album fans are demanding more, more, more! Melodic metal masters KAMELOT return to select Europe cities for a once in a lifetime tour and stage show. Bringing with them as special guests the Greek heavyweights "Firewind" and the Austrian/American female fronted group "Visions of Atlantis", this package will be one of the highlights of the year.
Founder and guitarist Thomas Youngblood adds: "The shows in connection with this album so far have been amazing, the fans and the band are as one everynight and there is an almost kinship between us. The shows will be something we will cherish forever!" Singer/songwrite Khan adds: "This 'Ghost Opera Tour Europe' will be our last tour of Europe until the next studio release, so we are planning even more specials for the fans!"
Special guests on this memorable tour are Greek phenoms Firewind with virtuoso guitarist Gus G at the helm. "I'm glad we're finally able to confirm a full European tour together with our buddies from Kamelot! As if the excitement wasn't enough when we announced the Japan tour with them, the idea popped up to do the full European run in 2008. What a great way to start the next year! We an't wait to come back and play for all our fans as well as make new ones. See you out there soon!" Gus / Firewind
Also on tour will be female fronted gothic metal band Visions of Atlantis. This hybrid of America/Austrian members are making waves in the scene as one of the premier up and coming bands. "We are very excited to announce that we will be on tour with Kamelot through the whole of Europe! They are such fantastic and respectable musicians, and we are really proud to be partaking in this experience - this package simply rocks. It will be great to be able to play for our European friends again as well...it has been quite a while away from you all! Thanks to everyone for your support and thanks to Kamelot for giving us this wonderful experience!" Melissa / Visions Of Atlantis
Confirmed dates, more to come: ics festival service, rock hard magazine, hardy.tv, wacken radio, wacken roadshow & metaltix.com presents:
"Ghost Opera European Tour Pt. 2" + special guests: FIREWIND & VISIONS OF ATLANTIS
04.04.2008 UK London Carling Academy
05.04.2008 UK Wolverhampton Wulfrun
06.04.2008 NL Amsterdam Paradiso
09.04.2008 BEL Antwerpen Hof Ter Loo
10.04.2008 GER Saarbrücken Garage
11.04.2008 FRA Paris Elysee Montmatre
12.04.2008 SWI Pratteln Z7
13.04.2008 ITA Milano Alcatraz
16.04.2008 GRE Athens Gagarin 205
17.04.2008 GRE Thessaloniki Ydrogeios
18.04.2008 BUL Sofia Hristov Botev
19.04.2008 SER Beograd SKC
20.04.2008 HUN Budapest Wigwam
22.04.2008 GER München Backstage
23.04.2008 GER Ludwigsburg Rockfabrik
24.04.2008 GER Essen Weststadthalle
25.04.2008 GER Hamburg Markthalle
28.04.2008 FIN Helsinki Tavastia
29.04.2008 FIN Oulu Teatria
01.05.2008 SWE Stockholm Klubben
02.05.2008 SWE Gothenburg Trädgarn
03.05.2008 NOR Oslo Sentrum Scene
tickets for shows in Germany available through:
http://www.metaltix.com/
& hotline: +49 4627 183838