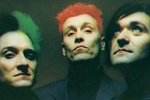 ROCK AM SEE 2008 - Die Ärzte will be headliners


Already a few days ago, we told you the headliner would soon be announced. And now we don't want to keep you in suspense any longer. After their concerts at the Rothaus-Arena in Frankfurt and the Messehalle in Friedrichshafen are already sold-out many weeks before they take place, DIE ÄRZTE will rock the Bodenseestation in Konstanz in summer. Germany's most famous doctors will of course present their new album 'Jazz ist anders' which has been released a few days ago.


The presale started on Wednesday, 7th November 2007 at 9:00 AM. The first 5000 tickets are sold for the 'Early Bird' price of 48 EUR. All following tickets cost 52 EUR.
Details of the Festival

Date: 30th August 2008
Venue: Bodenseestation, Konstanz, Germany
Doors open: 11:00 AM
Starts: 1:00 PM
Tickets are available here:
http://www.rock-am-see.de/

Source: Newsletter