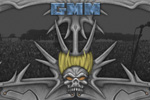 The countdown for a new edition of the Graspop Metal Meeting has begun!
This year Graspop is organising the 23rd edition of one of Europe's leading metal festivals. Contrary to last year the festival is scheduled for the last weekend of June: 27,28 and 29 June 2008
Don't forget to mark these dates on your calendar! Meanwhile preparations for next year's edition are well underway and we hope to announce the first batch of names shortly. Furthermore, we're revamping the website and a number of other novelties are in store as well. We're not about to spoil the surprise so our lips will remain sealed until the time is right!
Source: Newsletter