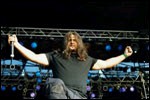 After sending shockwaves across Europe this past September and October, one of the most succesful touring packages has reassembled once again.
KATAKLYSM
and
BEHEMOTH
have joned forces for a quick European tour that will hit mainly the UK and Iberia (Spain, Portugal) in February 2008.
KATAKLYSM
will also introduce a new song from its upcoming album, "Prevail", due out May 2008. Comments singer Maurizio Iacono: "We were planning on coming back to the UK in 2008 since the dates went so well there and the crowds were so killer. Read
MORE
!