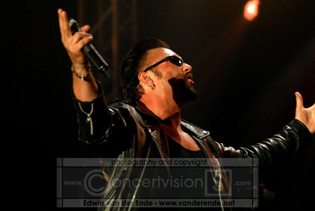 QUEENSRYCHE confirmed as headlining act for BANG YOUR HEAD!!! 2008
and to play a 3 hour-special 'Mindcrime'-show
QUEENSRYCHE are confirmed as one of the headlining acts to play at next year's installment of the BANG YOUR HEAD!!! festival set to take place on June 27-28, 2008 in Balingen, Germany. QUEENSRYCHE confirmed their appearance at BANG YOUR HEAD!!! 2008. The band will deliver a very special 3 hour performance with the full 'Operation: Mindcrime'-sets along with a huge stage production including stage actors, dialogue intermissions, video screens and other audio-visual effects.
The billing is shaping up as follows with 3 more acts to follow:

QUEENSRYCHE
SAXON
TRAMP'S WHITE LION
GREAT WHITE
RAGE
GRAVE DIGGER
AGENT STEEL
TANKARD
OBITUARY
ONSLAUGHT
ENSIFERUM
KORPIKLAANI
FORBIDDEN
AGENT STEEL
LIZZY BORDEN
SECRECY
BREAKER
TYR
AGE OF EVIL
CONTRACRASH
All further details about the BANG YOUR HEAD!!! may be found at the BYH!!!-homepage at
http://www.bang-your-head.de/
.
Tickets are availaible at ticket-hotline (+49-74 57-94 46 12) and via homepage
http://www.bang-your-head.de/
. Prices are 65, - Euro (plus shipping) at presales including a free shirt (limited offer). Tickets are limited to a number of 20000.
Source: Newsletter