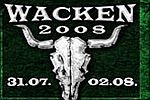 Nightwish are back at Wacken

Nightwish are back at Wacken. Stronger and heavier than ever !!!! The finish band around bandleader Tuomas Holopainen which released their new album " Dark Passion Play" not long ago are starting a new era. With their new front lady - Anette Olzon - Nightwish are stronger than ever and their success gives them right. Be prepared for their unique performance at the W:O:A 2008 Showtime: Aug, 2. Don´t miss them!
The Force Gorgoroth in Wacken
Gaahl und King are back and will present us a more heretic show at W:O:A 2008 than the legendary Krakow Gig.
CORVUS CORAX at the W:O:A

CANTUS BURANUS Part 2 from CORVUS CORAX at the W:O:A. What once bagan in 2005 will get it´s sequel in 2008
Warbringer and Enemy of the Sun
2 brand new newcomer bands at W:O:A 2008: Warbringer and Enemy of the Sun
W:O:A 2008 - latest billing

AS I LAY DYING, AT THE GATES, AVANTASIA, AXXIS, CARCASS, CHILDREN OF BODOM, CORVUS CORAX, CREMATORY, DREAM OF AN OPIUM EATER, ENEMY OF THE SUN, EXCREMENTORY GRINDFUCKERS, GOREROTTED, HATEBREED, IRON MAIDEN, KILLSWITCH ENGAGE, KREATOR, KRYPTERIA, LORD BELIAL, NIGHTWISH, OBITUARY, POWERWOLF, PRIMORDIAL, SABATON, SALTATIO MORTIS, SONATA ACTICA, THE BONES, THE FORCE GORGOROTH, WARBRINGER
W:O:A and metaltix.com X-Mas Calendar
We present you the W:O:A X-MAS Calendar 2007 powered by metaltix.com with big prizes! Check Out:
www.wacken.com
W:O:A 3-Day All In Ticket
This includes for example:
> free parking (for any verhicle equaly if car, bus, motorbike, or camper)
> free camping - directly at your vehicle for the W:O:A Feeling (as far as the weather allows it).
> Like before there is no limitation for drinks or any food on the parking- and camping area
> only greenfields and direct ways to the fesivalarea (as far as the weather allows it).
> Shuttle to the Wacken or Schenefeld swimming-bath.
> Garbage will be collected from us for free – No garbage deposit
> Festivalstickers
> free CD
> many little suprises = Full Metal Bag
> and many more......
Source: Newsletter /
http://www.wacken.com/