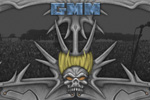 Ticket presales to start on 15 February

Newly confirmed:
CAVALERA CONSPIRACY – DEF LEPPARD - IN FLAMES - APOCALYPTICA OPETH - AVENGED SEVENFOLD - SAXON - TESTAMENT - MORBID ANGEL – MADBALL YNGWIE MALMSTEEN – OBITUARY – KORPIKLAANI - NILE - SOILWORK - DYING FETUS ROTTING CHRIST - 36 CRAZY FISTS – SABATON - ALCHEMIST – BEHEMOTH


After 12 years Max and Igor Cavalera have decided to hook up again! The new project is called CAVALERA CONSPIRACY
and Max (vocals/axe) and Igor (drums) are joined by Soulfly guitarist Marc Rizzo and Gojira's Joe Duplantier on bass. Fans all around the world have dreamt of this reunion ever since Sepultura's last show in 1996. The band's first album 'Inflikted' is set for a March release.
Rumours have been flying around that DEF LEPPARD would be playing GMM this year and this time the gossip mill got it right: you can catch Def Leppard on the main stage on Friday.
This new names bring the number of confirmed acts to 35 but we're not done yet!
So far the following bands have been confirmed:
IRON MAIDEN - JUDAS PRIEST – CAVALERA CONSPIRACY - WHITESNAKE – DEF LEPPARD – MINISTRY – SONATA ARCTICA - IN FLAMES - APOCALYPTICA – BULLET FOR MY VALENTINE - OPETH - MY DYING BRIDE - AVENGED SEVENFOLD - SAXON - TESTAMENT -
MORBID ANGEL -
AT THE GATES – MADBALL - YNGWIE MALMSTEEN - OBITUARY - FORBIDDEN - VOLBEAT - KORPIKLAANI – NILE - SOILWORK - DYING FETUS - ROTTING CHRIST –BEHEMOTH - HOLLENTHON -
DEATHSTARS -
36 CRAZY FISTS - SABATON - ALCHEMIST - CONVERGE – COMEBACK KID


Tickets

As from Friday 15 February, presale tickets for the next edition of the Graspop Metal Meeting can be ordered by phone, SMS and online. Presales in the usual outlets as from Saturday 1 March. Next week more information about the festival tickets!

Source: Newsletter