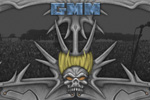 New bands confirmed for GMM2008!

immortal - iced earth – helmet – bring me the horizon – arch enemy – symphony x- black stone cherry - novembers doom - primordial - throwdown – bleeding through

Preparations for Graspop Metal Meeting 2008 are on schedule and – in all modesty – it's shaping up to be a real classic edition. The lineup is an ideal mix of tradition and innovation.


Norwegian black metal band IMMORTAL have also confirmed their appearance at GMM2008 on Saturday 28 June. Immortal decided to end their illustrious career in 2003 but the band has now decided to pick up the gauntlet once again. Abath, Apollyon, Horgh and Demonaz issued a brief statement for the Belgian fans: "Belgium hordes....we're looking forward to seeing you again."
ICED EARTH and frontman Matt Barlow (!) are slotted on Saturday 28 June. Matt Barlow recently returned to the fold, replacing Tim 'Ripper' Owens who took over from Barlow following his 2003 departure.
Irish doom metallers PRIMORDIAL will be playing on Sunday. Their latest release 'To the Nameless Dead' was well received by fans and critics alike, so be sure to check them out on the GMM stage on 29 June!

HELMET, BRING ME THE HORIZON, ARCH ENEMY, SYMPHONY X, BLACK STONE CHERRY, NOVEMBERS DOOM, BLEEDING THROUGH and THROWDOWN have also been confirmed.

In the meantime we're still working on the lineup for the Metal Dome, GMM's upcoming talent stage.

Source: Newsletter