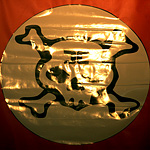 NOVEMBER 26TH 2005, 1700-0300
MÜNCHENBRYGGERIET STOCKHOLM

LIVE:
HOWARD JONES
APOPTYGMA BERZERK
COMBICHRIST
+ AN ADDITIONAL FIVE BANDS WILL BE ANNOUNCED SHORTLY!
HOWARD JONES AND APOPTYGMA BERZERK ON THE FORTHCOMING TINITUS FESTIVAL 2005!
On november 26th it's once again time for the annual Tinitus Festival to announce itself as Scandinavia's premier electronic music event.
Howard Jones is, alongside norwegian' Apoptygma Berzerk, the first two headlining acts at the seventh edition of the Stockholm festival, which each year presents eight international live acts of great magnitude. On top of all the live music we throw a huge party with synth, electro, EBM and 80's galore all night long.
This year the one day festival features several international top-tier bands with forthcoming albums. In addition to some undisputable giants we add some old school elements alongside newcomers with a promising future into the mix.
After last years' festival the venue Münchenbryggeriet experienced an issue where some people raised a point about their security staff. This will be corrected through a continous dialogue between organisers and the venue on how to better accomodate our wonderful audience. Furthermore we will offer more seating areas and a number of non-music(!) spaces.
A complete line-up will be announced over time but we can already confirm Howard Jones, Apoptygma Berzerk and Combichrist. A total of eight bands will be presented, and a pre-party with several bands and DJ's will be held on the night before, thus elevating Stockholm to be the synth-Mecca of Europe in the autumn days of november.
Ticket pre-sale will be available through Sound Pollution and Pet Sounds. Tickets are released on august 1st, and most likely a number of coaches will carry the Gothenburg audience to the festival, joining with their brothers and sisters on the east coast.
All information can be found on
www.tinitus.com
Source: Newsletter