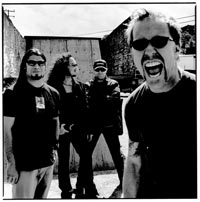 According to German online ticket agency Eventim.de, METALLICA will be playing several dates in Germany with the ROLLING STONES. No official announcement on the matter has yet been made by the tour promoter, METALLICA or the ROLLING STONES.
METALLICA have been tapped as the opening act for the ROLLING STONES during the group's Nov. 13 and 15 shows at San Francisco's SBC Park, joining the ranks of previously announced support bands as PEARL JAM, MAROON 5, JOHN MAYER TRIO, BECK and the BLACK EYED PEAS.
"After having the thrill of playing with some of our personal heroes such as AC/DC, DEEP PURPLE, IRON MAIDEN and OZZY (OSBOURNE), how could we say 'no' to the quintessential rock band, who are in some way responsible for all of this?" METALLICA said in a statement.
"These two shows are about nothing other than having fun and playing music ... nothing to sell, nothing to promote, nothing to talk about, , no fuckin' agenda at all. Simply put, this is the reason we started a band 25 or so years ago, and we are psyched and appreciative of this awesome opportunity to get cracking again..."
METALLICA last performed on November 28 last year, when their world tour ended in San Jose, California.
Source: Blabbermouth.net