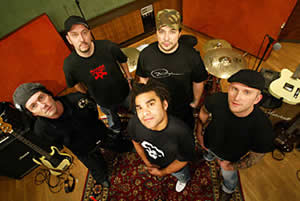 After 14 years, 6 albums and approx. 600 gig, German crossover veterans habe decided to play their last tour next year, before the band will be put on hold indefinitely.
As the band write in an official statement:
"
SUCH A SURGE gave us the opportunity to always follow our own path and create something that we always will be proud of.

Maybe the day will come, when we want to say something together again as SUCH A SURGE. But now we feel the need to start a new chapter. It's time to face the challenges of life separately. Through many unforgettable moments, SUCH A SURGE did shape us as human beings. So we didn't take this step lightly. But for the same reason we are looking forward very much to the farewell tour from Jan 26 to Feb 23, where want to rock out with all the fantastic SURGE fans and friends – because this always was and still is the greatest part! So whoever wants to go through those 14 years with us, from »Gegen den Strom«, »Silver Surger« to »Jetzt ist gut« and »Mission erfüllt«, should definitely come to a show!

We want to thank all those, who were with us all this time, who supported and believed in us! This we will never forget!
"
SUCH A SURGE - 1992-2006 – Farewell tour 2006


Presented by: JÄGERMEISTER Rockliga, VISIONS, Uncle Sally`S , EASTPAK
26.01.2006 Köln - Underground
27.01.2006 Bielefeld - JZ Kamp
28.01.2006 Chemnitz - AJZ
29.01.2006 Würzburg - AKW
30.01.2006 Nürnberg - Hirsch
01.02.2006 A-Wien - Planet Music
02.02.2006 A-Graz - Orpheum
03.02.2006 A-Traun - Spinnerei
04.02.2006 A-Dornbirn - Conrad Sohm
06.02.2006 Frankfurt-Batschkapp
08.02.2006 Stuttgart-Röhre
09.02.2006 Saarbrücken-Garage
10.02.2006 CH-Solothurn - Kofmehl
11.02.2006 CH-Zürich - Dynamo
15.02.2006 Hamburg - Grünspan
16.02.2006 Berlin - SO36
17.02.2006 Jena - Kassablanca
18.02.2006 München - Backstage
23.02.2006 Braunschweig - Jolly Joker
Tickets (for Germany):
www.ticketonline.de
or 01805-562030