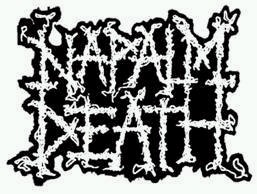 After delighting their fans with several energetic festival shows during the past summer months it's time to grind you into bloody pulp again with a monstrous hard-/metalcore, grindcore package. NAPALM DEATH participate in The Persistence Tour 2005 alongside such infamous acts as Hatebreed, Agnostic Front, Born From Pain and many others. Vocalist Barney Greenway looks forward to heat up the cold December days with some aural full-front assault:
"December always seems to be a particularly fun time to tour, and we are looking forward especially to the Persistence tour because this particular traveling circus always seems to look so much fun from the outside. I'm sure there will be lots of camaraderie, and it'll be interesting to see both the newer bands and Agnostic Front, who I haven't seen live for some time. It'll be nice to see Hatebreed also after Jamey helped us out on the album. For all you kids, we'll be playing as intensely as we can. Dance hard, but have respect for each other – violence, no thanks!" / Barney


The Persistence Tour 2005 continues where last year's Resistance Tour left off but had to be renamed due to changes in the organizing partners. As you will see yourself this will not have any effect on what to expect musically, it will only be even more brutal than ever!!! So, all you punk, metal, whatever-core freaks prepare your ears with another dose of "The Code Is Red…Long Live The Code" (released on Century Media Records April 25th, 2005) and get out on the dance floor!

Here the exact dates:

The Persistence Tour 2005
HATEBREED
AGNOSTIC FRONT
NAPALM DEATH
BORN FROM PAIN
BLEED THE SKY
FULL BLOWN CHAOS
THE RED CHORD

01.12. Wiesbaden – Schlachthof (Germany) + THE BONES
02.12. London – Forum (United Kindgom) + 50 CALIBER
03.12. Essen – Fun Box Amalie Halle (Germany) + ZERO MENTALITY
04.12. Brüssel – Ancienne Belgique (Belgium) + MAROON + THE SETUP
05.12. Hamburg – Große Freiheit (Germany) + DISCIPLINE + THE BONES
06.12. Nürnberg – Löwensaal (Germany) + ZERO MENTALITY
07.12. Wien – Arena (Austria)
08.12. Solothurn – Kofmehl (Switzerland) + CATARACT
09.12. Amsterdam – Paradiso (Netherlands) + SETTLE THE SCORE
10.12. Dresden – Alter Schlachthof (Germany) + DISCIPLINE
11.12. Berlin – Huxleys (Germany) + NARZISS


Source: Newsletter