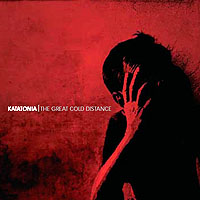 The new record of Katatonia is out now and their label Peaceville Records launched a new video for download called 'My Twin.'

Follow this direct link:
snapper.simbiotic.co.uk/vids/03.mov

The fans could see the movie also on the official site of the band, but now you can download it yourself too.

"THE GREAT COLD SPRING" European 2006 tour.
support
Novembre
except where not listed.
15th April Close Up Festival --Stockholm Sweden
20th April Cathouse --Glasgow UK w/Novembre
21st April Rio --Bradford UK w/Novembre
22nd April Mean Fiddler --London UK w/Novembre
23rd April W2 --Den Bosch Holland w/Novembre
24th April La Boule Noir --Paris France w/Novembre
27th April Tavastia --Helsinki Finland w/Novembre
28th April Lutskko --Jyvaskyla Finland w/Novembre
30th April Loppen --Copenhagen Denmark w/Novembre
1st May Columbia Club --Berlin Germany w/Novembre
2nd May Markthalle --Hamburg Germany w/Novembre
3rd May Substage --Karisruhe Germany w/Novembre
4th May Koloseum --Liberec Czech Republic w/Novembre
5th May Prime Club --Cologne Germany w/Novembre
6th May Metalalliance Festival --Beauvais France
8th May Rainbow --Milan Italy w/Novembre
9th May New Age --Treviso Italy w/Novembre
10th May Z7 --Prattein Switzerland w/Novembre
11th May Zeche Carl --Essen Germany w/Novembre
12th May Scum --Katwijk Holland w/Novembre
13th May Durbuy Rock --Durbuy Belgium w/Novembre
14th May Willemeen --Arnhem Holland w/Novembre
15/16 July Ilosaarirock Festival --Joensuu Finland