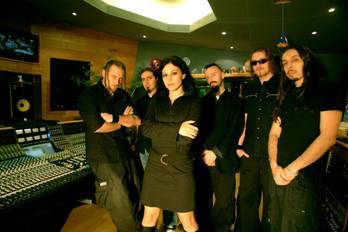 The highly acclaimed new LACUNA COIL album "Karmacode", had a phenomenal first week in the US and Europe by securing the #28 spot on the Billboard Top 200 charts in US and entering the official album charts in Italy, France, Germany, Netherlands, Austria and the UK. Critics have hailed the much-anticipated release as the group's most cohesive and all encompassing offering yet, led by the strength of its hit single "Our Truth," which is currently a Top 40 single on the U.S. Active Rock charts. The first single also entered the official single charts in the UK, Finland, Spain, Greece and Italy. Congratulations!
And yes, soon the band will be back for a massive European Headline Tour. Here are the first confirmed dates:

LACUNA COIL European Headline Tour
Presented by Rock Hard (D) & Sonic Seducer (D)
22.09.2006 (I) Treviso New Age
23.09.2006 (I) Cesena Vidia
24.09.2006 (I) Rome Palacisalfa
25.09.2006 (I) Florence Auditorium
26.09.2006 (I) Milan Alcatraz
28.09.2006 (E) Barcelona Razzmatazz
29.09.2006 (E) Madrid Arena
30.09.2006 (E) Bergara Jam
01.10.2006 (F) Bordeux Barbey
02.10.2006 (F) Clermont Ferrant Cooperative De Mai
03.10.2006 (F) Paris Olympia
18.10.2006 (NL) Tilburg O13
19.10.2006 (B) Antwerp Hof Ter Loo
21.10.2006 (DK) Copenhagen Pumpehuset
22.10.2006 (S) Malmo KB
23.10.2006 (N) Oslo Rockefeller
25.10.2006 (FIN) Helsinki Nosturi
26.10.2006 (FIN) Tampere Pakkahoune
28.10.2006 (S) Stockholm Klubben
29.10.2006 (S) Gothenburg Tragarn
30.10.2006 (D) Berlin Huxleys
31.10.2006 (D) Hamburg Docks
03.11.2006 (A) Vienna Planet Music
04.11.2006 (A) Linz Posthof
07.11.2006 (D) Stuttgart Longhorn (LKA)
08.11.2006 (CH) Zurich Rohstofflager
More dates to follow.