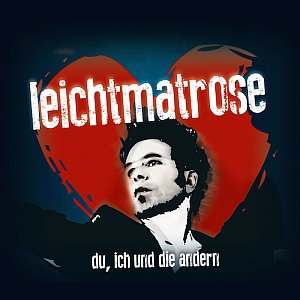 On 7th August, the new LEICHTMATROSE album 'Du, ich und die anderen' (you, me and the others) will be released. LEICHTMATROSE is different! The organic electro chanson fills the room with honeysweet melodies and expressive poetry during which the seemingly digestible snack gets stuck in one's throat sufficiently oftentimes. LEICHTMATROSE provoke and are often thought-provoking with their sarcastic lyrics. There is the fight declared against the terrycloth pyjama, the celebration of the swansong for the arse antlers or bundling the powers of the shelter father Joachim Witt in order to overcome the disturbing topic of post-war trauma.
LEICHTMATROSE take you away from here, no matter where to, when the going gets rough even to the ocean floor. No borders have been set musically: Emotional ballads are in rank and file with edgy sound power plants and the shining light doesn't shy away from bombastic winds but shows itself to be as adaptable as life itself while surfing on a postmodern German wave. His strange vocals stand in contrast with today's 08/15 vocals and helps the protagonist to slip into the different roles from the stories created with the music while remaining authentic. He obviously inhaled the drug "life" many times and due to his deeds as a drug counsellor or probationer he got to know the joyful and the dark aspects. This way a blessed cocktail of emotions with high recall value has been created, full of wonderful melodies which you look for in vain in the pop circus.
LEICHTMATROSE is a unicum and a real challenge.
Album Track listing
01. Dalai Lama
02. Ich Hab Dich Bloß Geliebt
03. Sternenstaub
04. Jonny Fand Bei Den Sternen Sein Glück
05. Hier Drüben Im Graben (Leichtmatrose / Witt, Joachim)
06. Damals Im Leben (Was Für Ein Jahr)
07. Adieu Marie
08. Liebe Und All Dieser Scheiß Der Mal War
09. Besser Nicht
10. Reingelegt
11. Atlantis (Leichtmatrose / Dorian E)
12. Wenn Du Sagst, Dass Du Mich Liebst
Pre-Orders at AMAZON
Source: Press Release