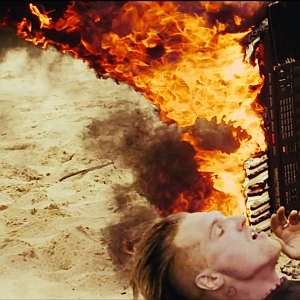 CARDIOCHAOS is the solo electro-alternative-pop-music-
project of Viennese musician and filmmaker Peter Brunner. Brunner is tortured by an obsessive creative urge caused by the extrasystoles that he feels in his chest – additional heart beats that appear between regular beats, known as cardiac irregularity and also the source of inspiration behind the music project's name "Cardiochaos". The supposedly harmless defect has a side effect: His heart won't let the musician rest, so he confronts the irregular rhythm in his chest with the hard beats in his songs.
In addition to being a musician the former student of Michael Haneke at the Vienna Film Academy he also works as filmmaker. Apart from short films and music videos his work includes his debut feature film "My Blind Heart", which won numerous awards at international film festivals. Brunner's sophomore feature film "Those Who Fall Have Wings" - which has the same name as Cardiochaos' second album – was awarded the prestigious Special Jury Prize at the 50th Karlovy Vary International Film Festival 2015. Brunner is currently working on his third feature film "To the Night", an English language movie, which will be shot in New York in 2016.
CARDIOCHAOS' influences are hook-heavy, radio-friendly alternative acts like THE KNIVE or THE CURE, refracted through the prism of CARDIOCHAOS' weirdness. Often compared to RADIOHEAD in the past, Brunner finds his own voice on his second album. Hauntingly airy vocals, hypnotic hooks that ward off the darkness, and beats which make the dead dance.
The filmmaker's music videos are intense, visually stunning and often disturbing worlds of imagery, which you should not miss. The music video for 'Dementia', a song dedicated to Brunner's grandmother, shows parts of the feature film "Those Who Fall Have Wings". 'Youth has Gone' is currently on rotation on Austria's radio station FM4. The latest music video for 'Wine & Champagne' celebrates the rebellion and taking matters into your own hands, the song will be featured on the upcoming album.
Live on stage CARDIOCHAOS is supported by a band of 3 multi-instrumentalists – an intense, bass-heavy rock performance, which mainly lives on Brunner's expressive body language, who completely immerses himself in the music and in the audience. A little creepy, but spellbinding. And on top of everything there is this constant beat, the heart that keeps everything together and tells of the obsession of a driven man.
In October 2010 CARDIOCHAOS was elected FM4 Band of the Month, the songs 'Discosleep' and 'Youth has Gone' were featured on FM4's Soundselections Volume 23 and 33. CARDIOCHAOS opened for OWEN PALLETT amongst others. The release of his third LP is scheduled for Spring 2017, followed by an international tour.
The 'Wine & Champagne' video premiered on November 18. Check it out here:
https://www.youtube.com/watch?v=y23eNFHCeF4
Info CARDIOCHAOS:
http://cardiochaos.com
/
https://www.facebook.com/cardiochaosmusic/
Source: Press Release