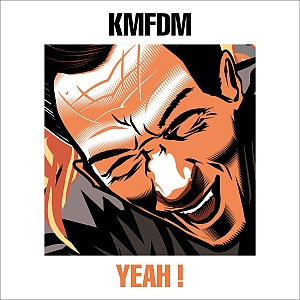 KMFDM, LEGENDARY PIONEERS OF INDUSTRIAL ROCK, RELEASE 5 TRACK EP "YEAH !" ON JUNE 23rd ON earMUSIC, NEW STUDIO ALBUM AUGUST 2017 AND ANNOUNCE EUROPEAN, UK AND US TOURDATES.
KMFDM's "YEAH!", a 5-track EP of brand-new songs, remixes and edits will be released on June 23rd, 2017 on earMUSIC as CD digipak and Digital. The EP is followed by the band's new studio album in August. "YEAH !" features two brand new songs:
"HELL YEAH" an instant KMFDM "classic" with its ultra-heavy beat and Sascha Konietzko's trademark cynical lyrics and the anthemic Lucia Cifarelli-fronted "FREAK FLAG", which is included in an edit on this EP. It is a distinctive hymn for outlaws, freaks, mavericks – and all of us indeed. KMFDM also revisited 2002's ATTAK/RELOAD and created "ATTAK 2017", a high-octane remixed version of the song. German rock band Lord Of The Lost's remix of "Hell Yeah" takes the original to a wholly new and surprising direction.
The cover artwork, an iconic piece of art by itself, highlights only a small part of the complete graphic which will be revealed with the album. It was, as almost all of KMFDM's visual brand, created by Aidan Hughes aka BRUTE!
KMFDM will perform at BRUTAL ASSAULT Festival, CZ, and at M'era Luna, GER, play 6 shows in the UK and then embark on a month-long tour of the United States playing in all major cities as well as headlining Cold Waves Festival in Chicago.
TRACKLIST
1. HELL YEAH (Album Version)*
2. FREAK FLAG (Edit)*
3. HELL YEAH (Lord Of The Lost Version)
4. ATTAK 2017 (KMFDM Remix)**
5. HELL YEAH (Edit)
* TAKEN FROM THE FORTHCOMING STUDIO ALBUM "HELL YEAH".
** PREVIOUSLY UNRELEASED AND ONLY AVAILABLE ON THIS EP.
EUROPEAN TOUR 2017
10.8.2017 Brutal Assault Festival (CZ)
11.8.2017 tbc
12.8.2017 M'Era Luna Festival (GER)
05.09.2017 Newcastle – Think Thank (UK)
06.09.2017 Glasgow – St. Lukes (UK)
07.09.2017 Manchester – Ruby Lounge (UK)
08.09.2017 Birmingham – O2 Institute (UK)
09.09.2017 London – O2 Academy Islington (UK)
10.09.2017 Bristol – Fleece (UK)
US TOUR 2017
01.10.2017 Chicago, IL – Metro (Cold Waves VI Festival)
02.10.2017 St. Louis, MO – Delmar Hall
03.10.2017 Indianapolis, IN – The Vogue
04.10.2017 Cleveland, OH – Agora Ballroom
05.10.2017 Falls Church (Washington, DC), VA – The State Theatre
06.10.2017 Philadelphia, PA – Underground Arts
07.10.2017 New York, NY – Irving Plaza
08.10.2017 Allston (Boston), MA – Brighton Music Hall
09.10.2017 Baltimore, MD
11.10.2017 Atlanta, GA – The Masquerade – Heaven
12.10.2017 New Orleans, LA – House Of Blues
13.10.2017 Austin, TX – Mohawk
14.10.2017 Dallas, TX – Gas Monkey Live!
15.10.2017 Houston, TX – White Oak Music Hall
17.10.2017 Tucson, AZ – The Rialto Theatre
18.10.2017 Tempe (Phoenix), AZ – Marquee Theatre
19.10.2017 Las Vegas, NV – Fremont Country Club
20.10.2017 San Diego, CA – House of Blues
21.10.2017 Los Angeles, CA – tbd
22.10.2017 San Francisco, CA – The Regency Ballroom
24.10.2017 Salt Lake City, UT – Metro Music Hall
25.10.2017 Denver, CO – Summit Music Hall
26.10.2017 Omaha, NE – The Waiting Room
27.10.2017 St. Paul, MN – Amsterdam Bar and Hall
28.10.2017 Milwaukee, WI – The Rave II
More on
KMFDM
Source: Press Release