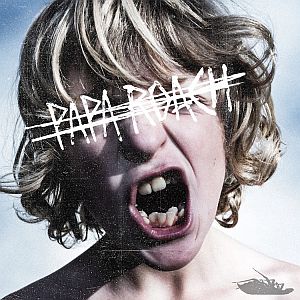 Papa Roach pulls no punches when it comes to politics. Earlier this year, the multi-platinum, award winning icons of alternative hard rock made headlines for taking on Paul Ryan in defense of the Affordable Care Act, but it's "American Dreams," the latest single off their ninth LP Crooked Teeth, where Papa Roach goes all in on the current state of America's political affairs.
"America is struggling, America is divided, America is hurting right now,"
explains Papa Roach frontman Jacoby Shaddix.
"We're at a fever pitch of confusion, smoke and mirrors, blatant lies. The American Dream is on the chopping block."
"Have you ever thought that war was a sickness?"
asks the lifelong pacifist in the lyrics for the track.
"My father is a Vietnam veteran. Post-Traumatic Stress Disorder and the disintegration of the American family are things I've dealt with personally. I know other people relate."
Today the band reveals the official video for the new LP's second single, "American Dreams" which went Top-10 at Active Rock this week, holding steady at #8. Shot in Shaddix's rural Northern California hometown of Sacramento, the video was Produced and Directed by Bryson Roatch, and features a cast of real life Americans fighting to create their own version of the elusive American Dream and addresses many of the issues preventing them from attaining that dream.
WATCH "AMERICAN DREAMS" OFFICIAL VIDEO HERE:
"Something's wrong here
Or so it seems
'Cause I'm not sleeping in
American Dreams
American lies
We're trying to see through the smoke in our eyes
So give me the truth
Don't tell me your lies
'Cause it's harder to breathe
When you're buried alive
By American Dreams"
Papa Roach released their ninth studio album on May 19 to critical acclaim, debuting at #1 on the Billboard 's Top Hard Rock Albums Chart, #4 on the Top Rock Albums Chart, and Top 20 in the Top 200. The album has accumulated over 52 million spotify streams since its release. Also, Papa Roach has announced rescheduled dates for four shows on their much-anticipated Headline European Tour this fall, with support from Frank Carter & The Rattlesnakes and Callejon detailed below. The tour will now kick off in Hamburg, Germany on Friday September 15th. And don´t miss them on their upcoming headline tour!
PAPA ROACH - Crooked Teeth Tour 2017 - Germany
(presented by: Metal Hammer, Mann.tv, EMP)
Special Guest: Callejon
Support: Frank Carter & The Rattlesnakes
15.09.17 Hamburg / Sporthalle
16.09.17 Berlin / UFO im Velodrom
21.09.17 München / Zenith
25.09.17 Ludwigsburg / MHP Arena
27.09.17 Fürth / Stadthalle
28.09.17 Offenbach / Stadthalle
03.10.17 Oberhausen / Turbinenhalle
https://wizpro.com/papa-roach/
2017/crooked-teeth-tour-2017/
Tickets HERE
19.05.2017 - PAPA ROACH "CROOKED TEETH" (Eleven Seven Music / Warner ADA)
PURCHASE/STREAM: https://paparoach.lnk.to/
CrookedTeethPR /
AMAZON
CROOKED TEETH Track Listing - Standard Edition (Digital, CD, Vinyl)

01. Break the Fall
02. Crooked Teeth

03. My Medication

04. Born for Greatness

05. American Dreams

06. Periscope (Feat. Skylar Grey)

07. Help

08. Sunrise Trailer Park (Feat. Machine Gun Kelly)

09. Traumatic

10 .None of the Above
Deluxe Edition includes 16 bonus Live tracks.
Deluxe Box set additionally includes a Flag, Laminate & Silicone wristband
Source: Press Release