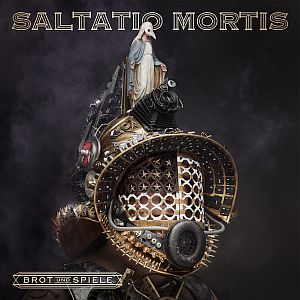 'Brot und Spiele' (release date: 17th August 2018) - that's the title of the new album by SALTATIO MORTIS, their eleventh, if you count only the studio albums - their nineteenth, if you include live albums and a 'Best Of'. It has taken a lengthy three years to make, which may well have been due to the impressive number of sold-out concerts over the same time. These eight musicians deliberately took this time in order to make a worthy follow-up to its successful predecessor. Dozens of pieces were written, discarded, re-composed, improved, stripped down to their essence, and finally studiously rehearsed, all in one room, loud and thrilling. This process continued on and on until the last person was convinced, "Yes, that's it, that's how we want to sound!"
The result is a self-contained album into which twelve pieces are condensed, all with that distinctive SALTATIO MORTIS spirit: themes that touch, excite and enthral. Rhythms that not only make you want to rock, but that also grab you and remind you of the first feelings at a festival; crowd-surfing effect optionally! Hard guitars snapping, but also giving the song space where it's needed. Hymnal melodies that seduce you to sing and scream passionately carried by front man Alea alongside those bagpipes that for so many years - eighteen, to be precise - shape the unique sound of SALTATIO MORTIS.
Alongside other historical instruments such as the hurdy-gurdy and bouzouki, these bagpipes, with their archaic elemental force, are traditionally an important pillar in the musical work of this Karlsruhe band. Despite their predilection for the past, the songs on 'Brot und Spiele' sound modern and fresh, they are well arranged and produced. Anachronistic? Not at all. On 'Große Träume', for example, with its wonderful rocking sound, describes so much more than the story of a band that once set out to conquer the world. "Big dreams... and a piece of immortality," say the lyrics. Isn't that what we are all looking for - big dreams and immortality?
Among the musical guests on 'Brot und Spiele' are Malte Hoyer of VERSENGOLD and Mr. Hurley (MR. HURLEY & DIE PULVERAFFEN). Their shared history with SALTATIO MORTIS dates back almost to medieval times, so who better to ask for humorous support in their song 'Mittelalter'? It was an invite that the two special guests gladly undertook.
Details
Band: Saltatio Mortis
Releases: 'Große Träume' (Single), 'Brot und Spiele' (Album)
Release Dates: 18th May 2018 (Single/Clip), 17th August 2018 (Album)
Label: Universal Music
Live Dates

18.10.2018 AT Graz, PPC
19.10.2018 AT Linz, Posthof
20.10.2018 CH Zurich, Dynamo
25.10.2018 AT Vienna, Simm City
26.10.2018 Munich, Tonhalle
27.10.2018 Munich, Filharmonie
02.11.2018 Würzburg, Posthalle
03.11.2018 Oberhausen, Turbinenhalle
09.11.2018 Berlin, Huxleys
10.11.2018 Hamburg, Mehr! Theater
23.10.2018 Wiesbaden, Schlachthof
24.10.2018 Dresden, Alter Schlachthof
Source: Press Release