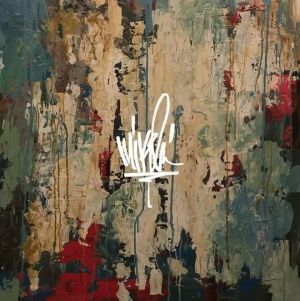 After coping extensively with the sock puppet Boris and his fearless cheeky nature over recent MIKE SHINODA's Socials, the fluffy colleague now gets the full stage in the music video for 'Ghosts', another harbinger of SHINODA's upcoming solo debut album 'Post Traumatic'. And he has a sock-sidekick, the body-wrenching Miss Oatmeal. The first words of the video, however, belong to MIKE SHINODA himself: Sitting in front of his computer, he seems to be making a video call. The camera captures a moment in which he reflects on the months after Chester Bennington's death and states: "I've had enough hard days. It's like, if I wake up and I feel good I shouldn't feel guilty about having fun, you know?"
And that's exactly what it is - a carefree, fun affair, is the video in which besides Boris and Miss Oatmeal various graphics, handicrafts and visuals populate the screen. Director and producer of the clip is once again MIKE SHINODA himself. In the song, MIKE SHINODA sings about how he tries during the day to lead something like a normal life - but at night, the memories that he now accepts and appreciates as an important part of himself constantly come back: "And when the lights go down / I see things I can't explain / Calling out my name / The lights go down / Holding every memory close / Tonight is for our ghosts".
'Post Traumatic' is the title of MIKE SHINODA's upcoming solo debut album, focusing on the emotionally turbulent months following the death of his friend and LINKIN PARK colleague Chester Bennington in July 2017. The now published harbinger, 'Running From My Shadow', is such a case - even the song title suggests that Mike is trying to run from something gloomy. The text goes into detail: "There are times when I kick myself/ Say I'm not sick but I can't get well/ Say I got this while I chase my tail/ As if they can't tell/ I'm running from shadow."
Fortunately, Shinoda has met people along the way who he felt understood by, along with his family and the many LINKIN PARK fans around the world, you can probably count on musician colleagues like GRANDSON, who collaborates in the track as well in the accompanying video that you see below. In it, the two perform the lines of the anthemic roaring song in the streets and parking garage floors of a dark industrial area. "That felt pretty cool", comments Mike at the end of the video. Which proves once again: music has a cathartic effect. MIKE SHINODA also talked about this and other topics surrounding the upcoming album in a recent interview with Beats-1 presenter Zane Lowe, also shown below.
MIKE SHINODA has released a new forerunner of his upcoming debut solo album, 'Post Traumatic'. 'About You' is an angry payoff with selfish contemporaries: "Even when it's not about you, about you", Mike Shinoda raps in the punchy track, complaining: "Even when there's no connection back to you in any line / All the sudden it's about you and it gets me every time". The heated atmosphere is contrasted by the soft vocals of BLACKBEAR, who contributes his lines in the second part of the song. Below is the music video for the song in which MIKE SHINODA raps through the nightly Shanghai in a PUBLIC ENEMY T-shirt. The video is as well directed by MIKE SHINODA.
In the interview with Zane Lowe on Beats 1, MIKE SHINODA comments that he extracted 'About You' from several rap songs he worked on - and that the lyrics are not directly related to his deceased LINKIN PARK bandmate Chester Bennington, even though most of the album 'Post Traumatic' (as the title implies) deals with his death: "I wrote all these songs and much of the initial stuff on the album was about what happened and it was about Chester and all that", says the Californian. "Then I tried to write songs that are not about Chester and the whole thing, and I realized that people would hear them as if they were about him, and I thought to myself, even when I tried to write a song to not dealing with his death, it still feels like it is about him."
Along with the album announcement, Shinoda has released two tracks, 'Crossing A Line' and 'Nothing Makes Sense Anymore', as well as a music video for 'Crossing A Line'. The 16-track album can be pre-ordered now and includes, in addition to the two already mentioned tracks, the three tracks of the 'Post Traumatic' EP, which was released earlier this year. In addition, Shinoda will play a handful of solo shows this summer, such as the Identity LA in Los Angeles on May 12th or the Reading and Leeds Festival, and the Summer Sonic Festival in Japan in August.
In the months following the death of LINKIN PARK singer Chester Bennington, Shinoda has plunged into the arts to find a way to cope with his grief. Without an agenda, Shinoda has entrenched himself in his home in Los Angeles and started writing, recording and painting. In January he released the 'Post Traumatic' EP, which consists of three very personal songs. Each one expresses his blunt grief, accompanied by self-designed visuals filmed, painted and edited by Shinoda himself. The feedback was overwhelming and the New York Times commented: "The tracks are reverberant electronic dirges; the rhymes, heading into sung choruses, testify to bewilderment, mourning, resentment, self-pity and questions about what to do."
After the EP release he wrote more songs and the result is the upcoming 'Post Traumatic' album. A transparent and intense personal piece of music that, in spite of the title, is not just about mourning. "It's a journey out of grief and darkness, not into grief and darkness," says Shinoda. The bottom line, 'Post Traumatic' is an album about healing. The songs that deal specifically with Shinoda's experience of loss are understandable for everyone thanks to their honesty and cordiality. "If people have been through something similar, I hope they feel less alone," he states. "If they haven't been through this, I hope they feel grateful"