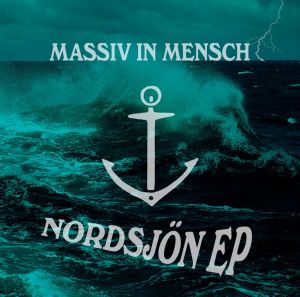 The 'Nordsjön EP', released on 24th July 2018, is a club-suited extract of the last MASSIV IN MENSCH album 'Am Port der guten Hoffnung'. With over two hours of playing time and a concentration on the core topics of wind energy, water and seafaring, the band from Varel in the Frisian region received a lot of praise and recognition. In addition, the album placed up to third place in the German Alternative Charts.
For the 'Nordsjön EP', the most prominent tracks of the album have been reduced once again and refined and converted into club and radio suitable formats. So we experience with 'Rotto Nave' and 'Van Weyden' two driving electric rammers with influences from the classic Electronic Body Music. The 12" version in "Mashup style" of 'Monkey Islands' is a tribute to the maxi versions of the 80s. With the participation of Honey (WELLE:ERDBALL) and the classical singer Rana Arborea, a real gem has been created here.
Three brand new tracks and a mix of the electronic dance band KONTRAST complete the 'Nordsjön EP', which will surely delight even old MASSIV IN MENSCH fans.
Here the fans can already get a first impression:
Source: Press Release