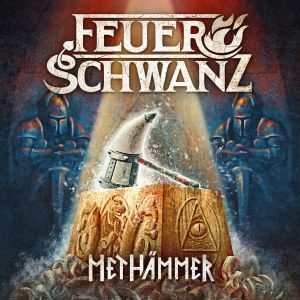 FEUERSCHWANZ are back with a new album this summer. The Nuremberg-based band, currently one of the fastest growing bands in the scene - their last album reached the Top 5 album charts - releases its newest output 'Methämmer' on August 17th via FAME Records. The accompanying video has already been released: 'Schubsetanz':
The governments of the world have hitherto kept it a secret from humanity, but now the truth comes to light: Since time immemorial, all our destinies have been guided by an ancient secret society. Illuminati, Freemasons, Templars: each secret society had some even more secretive members who operated undercover and under highest secrecy as henchmen of the METHÄMMER cult. A conspiracy within a conspiracy, with unlimited access to all the mysteries of life. A biblical element of cyclopean scale and unbelievable alcoholic energy, which hammers away at all of us. Whether we are with or without a tinfoil hat!
FEUERSCHWANZ's response to these current "alternative" facts is as usual biting and at the same time more entertaining than ever. In the style of their classics such as 'Metnotstand im Märchenland' or 'Sex Is Muss' FEUERSCHWANZ put social themes into their very own world and let us see things with humour. Fun disguised as collective self-therapy? Yes, it works! There is no other way to explain the success of the band, which has been around for 15 years now, and which, like no other profound satire, dresses it in up in an unique knightly sense of humour suitable for the festival. With "Methämmer", FEUERSCHWANZ bow to the metal heroes of the eighties through to the present day and give a new look to the somewhat dusty genre of medieval rock.
Summer Tour 2018

30.06.2018 Weil am Rhein – MPS
14.07.2018 Bückeburg – MPS
20.07.2018 Pförring – Open Air Pförring
27.07.2018 Trier – 1. Trierer Nacht der Spielleute
02.08.2018 Wacken – Wacken Open Air
04.08.2018 Cologne – MPS
08.08.2018 Wunsiedel – 10 Jahre Colllis Clamat
11.08.2018 Höchstadt a. d. Aisch – Schlosshof Festival
17.08.2018 Hamburg – Hammaburg Fest
18.08.2018 Dinkelsbühl – Summer Breeze
METHÄMMER Tour 2018

23.11.2018 Bremen – Aladin
24.11.2018 Cologne – Essigfabrik
29.11.2018 Frankfurt – Batschkapp
30.11.2018 Karlsruhe – Substage
01.12.2018 Pratteln (CH) – Z7
06.12.2018 Berlin – Columbia Theater
07.12.2018 Kiel – Pumpe
08.12.2018 Hanover – Musikzentrum
13.12.2018 Hamburg – Markthalle
14.12.2018 Leipzig – Hellraiser
15.12.2018 Bochum – Matrix
20.12.2018 Vienna (AT) – Szene
21.12.2018 Graz (AT) – Explosiv
22.12.2018 Munich – Backstage
28.12.2018 Nuremberg – Hirsch
Source: Press Release