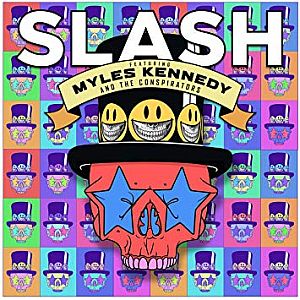 SLASH FT. MYLES KENNEDY & THE CONSPIRATORS will release their new album 'Living The Dream' on September 21 via SLASH's own label Snakepit Records, in partnership with Roadrunner Records. The first single 'Driving Rain' was already celebrating its radio premiere. The single can be heard on https://roadrunnerrecords.lnk.to/livingthedream, a trailer including the new song is available here:
SLASH himself says about the creation of 'Driving Rain': "I remember that I played the riff with the boys for the first time in a venue in New Hampshire on the "World on Fire" Tour. It's a cool guitar part that we downplayed, and from that point on, the rest of the song came into my head while we were touring. This year we put it all together and Myles wrote a great tune…"
MYLES KENNEDY adds: "The riff is totally reminiscent of the early AEROSMITH. It has a certain Funk that is irresistible. Lyrically, the song tells the story of someone who travels a lot for work - that can be a musician, or even a salesman in the field. What makes it all interesting is that this guy has a dependent girlfriend or wife who relapses again and again, and eventually gets him to come home. She is unhappy and always falls back into old patterns of behaviour, which makes him return to her to save her."
'Living The Dream' is SLASH's fourth solo album and the third he recorded with his bandmates Myles Kennedy (lead vocals), Brent Fitz (drums), Todd Kerns (bass & vocals) and Frank Sidoris (guitar & vocals). 'Living The Dream' can be physically pre-ordered as a CD, Heavyweight Vinyl and Limited Deluxe Premium Set, consisting of a yellow double vinyl in a 20-page vinyl-sized premium 'Living The Dream' hardback book, an exclusive one-sided 7" single from 'Driving Rain', as well as a special set of SLASH plectrums, the standard CD album and a poster. All formats can be ordered together with a limited edition T-shirt and hoodie. The different versions of the 'Living The Dream' CD and merchandise packages are available here: http://www.slashonline.com. At the same time, the band also announced the album cover and track-listing of 'Living The Dream'. The artwork is by the famous artist Ron English.
For the 12 powerful songs on 'Living The Dream', SLASH and his band have teamed up again with producer Michael "Elvis" Baskette (ALTER BRIDGE, IGGY POP, INCUBUS). The band's previous albums 'World On Fire' and 'Apocalyptic Love' made it into the Top Ten in 12 countries, including three #1 hit singles in the US. Rock Radio and earned SLASH worldwide chorus of praise and some of the best reviews of his career. Guitar World described 'World On Fire' as "another brave and unabashed riff statement" and "a varied, comprehensive and incredibly hard rocking venture" (December 2014). The Rolling Stone, meanwhile, described 'Apocalyptic Love', the band's debut album, as "full of head-bangers and a lot of unusual work on the guitar band," and Revolver declared it to be "a collection of slender, high octane Rock'n'Roll tunes made for open sports cars or even better for open-air stadiums" (May 2012)
Tracklist

01. Call of the Wild
02. Serve You Right
03. My Antidote
04. Mind Your Manners
05. Lost Inside the Girl
06. Read Between the Lines
07. Slow Grind
08. The One You Loved Is Gone
09. Driving Rain
10. Sugar Cane
11. The Great Pretender
12. Boulevard of Broken Hearts
Source: Press Release