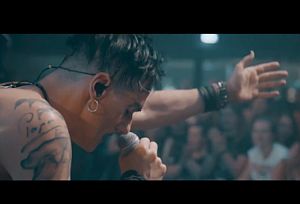 Andy Brings of Germany's most rock n' roll band, DOUBLE CRUSH SYNDROME, who achieved #48 in the official German album charts with their debut record 'Die For Rock N' Roll' (2017), is pleased to share the official trailer of his first movie 'FULL CIRCLE - Last Exit Rock´n´Roll'. Additionally to that the band will release their version of Billy Idol's 'Rebell Yell' in September!
Vocalist & guitarist Andy Brings says:
"Of course, Rebell Yell is basically uncoverable, and of course we don't care. Billy Idol is the king, but Double Crush Syndrome are also pretty damn good, and we're very proud of our interpretation of the song. I produced it together with Uwe Hoffmann (DIE ÄRZTE, DONOTS, SPORTSFREUNDE STILLER and many more), my dear friend and mentor. He is also a king! We just found our flow, everything is beautiful, everything is love ..... now we turn it right up! MORE, MORE, MORE!"
Watch the official trailer for 'FULL CIRCLE - Last Exit Rock´n´Roll' now here:
DOUBLE CRUSH SYNDROME recently announced their upcoming "Flash & Blood Tour 2018" which will take them throughout Germany, plus an accompanying EP release! The (previously only available digitally) 'Flash & Blood' EP will be available for purchase in the form of a limited and extended CD (hand numbered and signed by the band!) at these shows. It can also be pre-ordered at Contra Promotion's ticket shop, here: https://www.contrapromotion.com/kuenstler/double-crush-syndrome/ ("Ticket + CD Gutschein")
Andy Brings stated:
"Whatever I do, I always give my very best: Recording new music with DOUBLE CRUSH SYNDROME, producing my film debut »FULL CIRCLE - Last Exit Rock n' Roll« etc. But nothing pushes me more than going on tour, entering a stage and giving E V E R Y T H I N G I've got for our fans! Love, sweat, face to face contact, that's rock n' roll! I can't wait to get out on the road again!"
The dates read as follows: »Flash & Blood Tour 2018«
15.09. D Essen - Zeche Carl
22.09. D Munich - Backstage
28.09. D Hamburg - Indra
29.09. D Berlin - Maze
'FULL CIRCLE - Last Exit Rock´n´Roll' - A film by Andy Brings, Popo Chanel, Alexander Waldhelm and Jan Weiner
There are times in life where words and music are not enough. Dreams, hopes and desires are unbelievably visual things, and that's why there will be the release of 'FULL CIRCLE - Last Exit Rock 'N'Roll'!' Based on his story, Andy Brings and his team want to show what drives people who have a dream and do everything in their power to make it happen. How do you deal with it when a dream suddenly turns into a nightmare, and from where do you get the strength to turn everything around again, to make your life "complete", to bring it to its true purpose and give it its meaning. No matter what the individual small or big goal is. No matter how long it takes.
Brings' life was and is still like that. Love, passion, struggles, setbacks, lifeblood, success, defeats, fun and tears. But his dream of rock'n'roll came true. From starting out as a fan boy to touring with their heroes SKID ROW, without which Andy Brings would not exist. 30 years and more, never losing sight of the goal. Everything is possible, Brings is the living proof! His story is your story. What are your dreams? Are you looking for your inner truth? Are you ready to give anything for it?
The film is an inspiration and an affirming force. Whatever you need. Don't let others change you. Go your way, no matter what they say. You will see: you are not alone! The movie also features Brings' friends and companions like the heavy metal queen DORO PESCH, all members of SKID ROW, the actress LIZ BAFFOE(Lindenstraße), SODOM-singer TOM ANGELRIPPER, MARCUS "THE DUKE" SAUK u.vm.
The film celebrates its premiere on September 12, 2018 in Essen's Lichtburg
Source: Newsletter