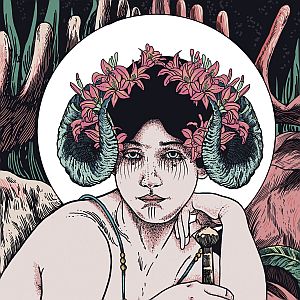 NEPHILA has joined forces with The Sign Records and will release their debut self-titled album in June, 2021. Combining Psychedelic Rock and Heavy Blues with theatrical expressions, the 7-headed Rock orchestra brings out the best of 70s Experimental Rock while adding their own touch of mysticism and visual storytelling. On Friday, January 15, 2021, NEPHILA launched the first single from the album, 'White Bones'.
NEPHILA is a musical spider, with its sprawling legs represented by 70s Space Rock and masked band members. Flashing guitar solos and psychedelic melodies quickly brings to mind pioneers such as the American Jefferson Airplane and Sweden's Abramis Brama. With members hailing from Retro Rock band CHILDREN OF THE SÜN, melodies and rhythm crawl like a red pulsing thread through the songs of this Swedish band.
Guitars act as the basis on which Hard Rock rests as the heart of it all and with its mystical visuals, NEPHILA is a concept for you to discover with all of your senses. Allow yourself to take part of the thrill NEPHILA brings and let it become an alternative to what you already love. With members descending from both music and the theatre stage, the theatrical setting is a given.
"NEPHILA's strength definitely lies in our performance", says one of the lead singers Stina. "The mystique is important. We all have strong personalities and our masks create yet another dimension. No matter what happens to any of us, the mask always lives on."
Stepping into the year 2021, the band has a lot in store. Starting off by releasing the single 'White Bones' on the 15th of January, NEPHILA is about to keep up the tempo throughout spring and tops it off by releasing their debut album, 'Nephila', on the 4th of June, 2021. The album will be released in physical and digital format on The Sign Records. 'White Bones' can be streamed here: https://orcd.co/whitebones. Links: https://www.facebook.com/swenephila
Source: Press Release