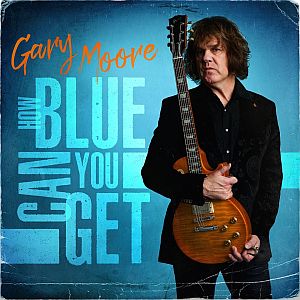 An album with unreleased material never heard before! On April 30th, Provogue Records will release a new album entitled 'How Blue Can You Get' of previously unreleased material by GARY MOORE, who passed away 10 years ago. This month marks the tenth anniversary of the tragic death of the Northern Irish musician. He left an incredibly impressive back catalogue. These include solo albums such as 'Still Got The Blues' (1990), 'Blues for Greeny' (1995) or his first number one success 'Wild Frontier' (1987), but also as a band member of THIN LIZZY, SKID ROW and COLOSSEUM II, Moore left a legacy that few others can match.
Some previously unheard and unreleased Deep Cuts and Alternate Versions have surfaced deep in the Moore family archives. These underline impressively that GARY MOORE was one of the best modern exponents of the blues. With 'In My Dreams', 'How Blue Can You Get' even offers us a flawless blues ballad, which could also have been on the mega-successful album 'Still Got The Blues'.
The album kicks off with a stirring recording of Freddie King's 'I'm Tore Down', a live favourite of Moore. This is followed by a previously unreleased, virtuoso version of MEMPHIS SLIM's 'Steppin' Out'. 'Done Some Wrong' by Elmore James is another piece that shows off his blues skills. The 7-minute version of B.B. KING's 1964 'How Blue Can You Get' gave this compilation its name. The alternative version of 'Love Can Make A Fool Of You' is unmistakably at home deep in the blues-rock heart of Gary Moore. The beautifully painful 'Living With The Blues' concludes this great complementation of unreleased material.
Although he was often the youngest member in a number of teenage bands, Gary was always in charge. At the age of 15 he was arguably the best guitarist in Belfast, and he discovered the blues through the release of the John Mayall / Eric Clapton Bluesbreakers album in 1966. With his first foray into the blues, his 8th solo album 'Still Got The Blues', his big breakthrough came in 1990. Ten years earlier the blues got its first revival in the John Landis film 'The Blues Brothers' with Dan Aykroyd and John Belushi. In 1983 Texan Stevie Ray Vaughan started his triumphal march with 'Texas Flood' and in 1989 the blues legend John Lee Hooker celebrated another international success with his album 'The Healer'. On March 26, 1990, Gary Moore took over the blues-rock sceptre and continued his love affair with the blues for the rest of his career.
Moore's legacy will live on. He influenced guitarists like Joe Bonamassa, Paul Gilbert, Zakk Wylde and also Kirk Hammett. Speaking to Rolling Stone magazine in 2011, Hammett said, "His influence is so strong that the opening lick of the guitar solo on Master of Puppets is a variation of a lick that Gary Moore played many times. I remember that how I heard his blues album for the first time and was just blown away - not just by his playing, but also by his sound, his tone. And I remember being so inspired that I wrote a few riffs, based on his sound and feeling. And those riffs ended up in 'The Unforgiven' on the Black album."
Listen to 'I'm Tore Down (How Blue Can You Get) 2021':
"I met GARY MOORE on October 23, 1970 in London," says Moore's long-time friend Bernie Marsden. "He played with SKID ROW and my band SKINNY CAT opened that night. We were about the same age and dressed similarly, except for the beret he was wearing! We got along well - I could tell how good he was right away, but I did also noticed that he was very easy to get along with, looked after the support band and tried very hard - believe me, that was not common back then. For the next few years I met Gary at gigs in London or privately at the Marquee Club. We spent quite a bit lots of time together when we weren't performing. We quickly found out that we had the same influences, mostly Peter Green, Eric Clapton and Rory Gallagher. I was even with him the day he played Peter Green's Les Paul guitar, the famous 'Greeny'." In 1995, Moore released a tribute album in honour of Peter Green called 'Blues for Greeny.' Since 2014, 'Greeny' has been owned by Metallica guitarist Kirk Hammett.
He continues: "We have remained friends over the years, and in 1974 he called me to borrow a guitar from me to perform with Colosseum. I still have that guitar today. He was at my wedding in 1980 and played as part of the pretty impressive house band that included Cozy Powell, David Coverdale and Don Airey! We stayed close friends and the last time we hung out was in 2006 on his UK tour with BB King."
Moore's solo career was just taking off when the band TOTO became superstars in the early 1980s. Guitarist Steve Lukather remembers Moore and reflects on his admiration for the Irishman: "Gary was a force. Its intensity, but also its dynamic, soft tones had so much feeling. He was a master and I got to watch him play and get to know him. He was really a very nice person. His loss is painful, but we are blessed; we can still hear him play on the records and DVDs, and all of that will last forever. It was absolutely unique." BLACK STONE CHERRY singer and guitarist Chris Robertson was also inspired by GARY MOORE. "Gary Moore took the Blues and turned it upside down for me. His ferocity and style of play was definitely an influence on me. It was such a ferocity in what he was doing that can't be beaten," says Robertson.
DEEP PURPLE keyboardist Don Airey was also one of Moore's long-time friends. "Gary was a great singer, lyricist and songwriter, oh yeah, and then there was his guitar playing and of course his exuberant Belfast humour," said Airey. Airey played the keyboard on some of the songs on Gary Moore's 78 album 'Back on the Streets'. Don recalls, "While working on the 'Back on the Streets' album, Gary recorded six different solo takes of 'The Road Goes On Forever', each of which was phenomenal, each different from the others. He asked which I think is the best. I made a choice and thought it would sound even better if it was played twice.
After playing it once and listening to it once, Gary went back to the studio and double-recorded a 16-bar solo in a single take. Chris Tsangarides, who produced and did the technology, turned around and looked at me with wide eyes. Nothing was said. After a minute or so a voice came out of the studio: "Was that good?" "Uh, yes," said Chris, "come in!". Gary was the most amazing musician any of us have ever worked with, and he's still a musical reference point ten years down the line - I keep asking myself, "What would he think of that now?"
The music on this unique compilation entitled 'How Blue Can You Get' clearly underscores Moore's depth and complexity with which he has touched so many people. Bernie Marsden concludes, "We grew up in the industry together and he ended up becoming a huge solo star. I wasn't the remotely surprised, of course, as his playing was so amazing, a great musician and performer. But to me he was first and foremost my friend, and I still miss him today! Enjoy these rare recordings."
Visualizer for the song 'In My Dreams'
All order information can be found under this link:
https://smarturl.it/GaryMoore
Available as CD, vinyl and digital. http://www.gary-moore.com/
Source: Press Release