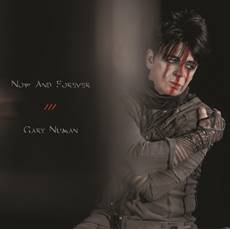 With the last single releases, GARY NUMAN gave us a glimpse into the thought-provoking concept of his new album 'Intruder', which will be released on May 21. The individual chapters are gradually made up - starting with the title track to the current song 'Saints And Liars' - the album together and thus reveals the overall picture of the story layer by layer. With every new chapter, the interest in the now 18th studio album by the Synth Pop pioneer grows, whose fans and critics (including NME, The Quietus and Radio 6) happily welcome Numan's latest vision of a frightening future. Now GARY NUMAN presents his new single 'Now And Forever' and at the same time the last harbinger of his long player 'Intruder'. Listen to the new song: https://garynuman.lnk.to/NowAndForeverPR
Compared to the previous tracks, 'Now And Forever' comes with an albeit subtle but noticeable change in tone. Although the prelude, with its reduced industrial sound, seems like a funeral march for a mortally wounded world, the comparatively literally radiant synths and the warm female background vocals create more of a mood of hope than sheer despair. This mood also resonates in the lyrics, which take on the perspective of a world that has freed itself from the people who plague it. On the one hand, there is regret about what happened, but at some point in the distant future also the possibility of making amends: "Until your time comes, I'll wait here for you, forever."
"This is one of two songs on 'Intruder' where I tried to write a text that carries on the down-to-earth theme of the album, but at the same time carries a second, completely different meaning. And so in the case of 'Now And Forever', the text is not only a message from Earth to humanity, but also a message from me to my wife Gemma", reveals Gary. Ordinarily, the release of a new GARY NUMAN album would flock his fan base to one of his always-sold shows. Until then, the first opportunity to experience 'Intruder' together will be at Tim's "Listening Party" on May 22 from 10pm (BST), where the album will be presented and Gary will co-moderate side by side with Tim Burgess.
'Intruder' follows the album 'Savage: Songs From A Broken World', which was released in 2017 and reached number 2 in the Official Album Charts, the highest chart position in its almost forty-year success story. It was recorded both in Numan's home studio in Los Angeles and in the studio of producer Ade Fenton in Bath and after 'Jagged' (2006), 'Dead Sun Rising' (2011), 'Splinter (Songs From A Broken Mind)' (2013) and 'Savage (Songs From A Broken World)' (2017), it is their fifth joint studio album.
The long player will be released as a standard CD and deluxe album and will also be available as black heavyweight double vinyl, picture disc double vinyl, cassette and in all common digital formats. In addition, there will be three more exclusive coloured double vinyl formats: in red (only available in selected indie stores), silver (on Amazon) and gold (in GARY NUMAN's official shop).
Since making a name for himself with epoch-making hits like 'Cars' and 'Are Friends Electric?' (with TUBEWAY ARMY), GARY NUMAN has remained tirelessly creative and has published a huge catalogue of works over the years. His influence on electronic and alternative music was recognized by pioneers of the genre such as PRINCE, DAVID BOWIE and NINE INCH NAILS and is still clearly noticeable to this day - as both KANYE WEST and LADY GAGA confirm. He was honoured with the prestigious Inspiration Award at the Ivor Novellos in 2017, and in the autobiography '(R)evolution', published in 2020, he paints a completely unvarnished picture of his remarkable and extraordinary story.
Source: Press Release