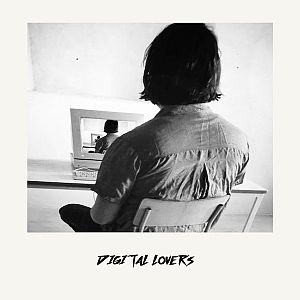 The new DANIEL BENYAMIN (SEA + AIR) single 'Digital Lovers' recently celebrated its video premiere. It is the first song from his debut album 'Eral Fun', which will be released in February 2022. From November 12, DANIEL BENYAMIN will be on tour with his new songs. The first single from DANIEL BENYAMIN's debut album 'Eral Fun' surprises everyone who knows his previous work. The Pop sensibility of his former duo SEA + AIR mixes with the energy that made his band JUMBO JET unique.
But above all, he opens a whole new chapter with the abuse of old school keyboard sounds, atmospheric guitars, futuristic drumming and the reinvention of his singing. 'Digital Lovers' is one of the catchiest and strangest songs that never came out of the 80s. The danceable and melancholic track gives a promising glimpse into the contradicting world of the album, which will be released in February 2022. It is the first of a collection of songs about joy and death. It's about intangible love and being trapped behind screens.
Whether solo, with his bands SEA + AIR and JUMBO JET, as drummer for the San Francisco noise legend TOILING MIDGETS or bassist for THE STROKES producer Gordon Raphael from Seattle: DANIEL BENYAMIN has been longing for the connection of different musical genres since childhood. He adored the melancholy masterpieces of J. S. Bach from his parents' living room as well as obscure Wave bands, whose records he had to buy secretly because Rock music was forbidden at home. Already at the age of 12 this connection of rebellion and love manifested itself in the great, disharmonious melodies of his first Punk band. Later, enriched with lo-fi, ambient music and neo-classical music, DANIEL BENYAMIN soon gained a reputation as a composer of unique, intelligent Pop songs.
He left school and home at the age of 17 and began touring with his numerous band projects. Since then, he has played over 2,000 concerts in 35 countries; has toured with a wide variety of artists such as Sufjan Stevens, Whitney Houston and Jose Gonzalez; and dares to sell tens of thousands of albums, 400 written songs and film soundtracks from arte to Tatort to ZDF Monday film and a top 50 album later, a new start as a solo artist. His greatest success is that he is fully reflected in his music and gives the listener an unadulterated image. He follows the musical call of his soul, detached from mainstream and expectations.
After SEA + AIR ended, DANIEL BENYAMIN started a solo project under a new name. He processed this reinvention, which got a new dimension with the lockdown in 2020, by inventing his own genre: Naive Music. How that sounds can be heard on his upcoming debut album 'Eral Fun'. There DANIEL BENYAMIN condenses his experiences into a clear voice of his own. It shows itself in fragility as well as in the energetic rhythms and atmospheric, catchy melodies that are typical for it. His craft is the great songwriting of the 70s and 80s. Combined with three-dimensional synth sounds and instruments played analogously, a unique musical cosmos grows.
His long-term musical partner Zar Monta Cola, who plays drums and synth bass at the same time, is back in line with the reinvention, who, in addition to various joint projects, has been in over 40 bands over the past decade. The two raise the multi-instrumentality of SEA + AIR to a new level and sound like a small orchestra as a duo.
Starting with selected concerts in Germany in November and December, the two childhood friends will go on an album release tour that will take them through many other European and North American cities in 2022. It is not a full circle, but an upward spiral that continues into the next round.
Digital Lovers Tour 2021

Tickets: https://linktr.ee/DanielBenyamin
Nov 12, 2021 LÜBECK, Tonfink
Nov 13, 2021 COTTBUS, Galerie Fango
Nov 14, 2021 BIESENTHAL, Entgleisung
Nov 15, 2021 MÜNCHEBERG Gasthaus zur Ostbahn
Nov 16, 2021 ZWICKAU, Alter Gasometer
Nov 17, 2021 HAMBURG, Knust
Nov 18, 2021 FLENSBURG, Volksbad
Nov 19, 2021 BREMEN, Hofatelier
Nov 20, 2021 OLDENBURG, Flänzburch
Nov 21, 2021 MÜNSTER, Pension Schmidt
Nov 22, 2021 COLOGNE, Weltempfänger
Nov 23, 2021 ESSEN, Weststadthalle
Nov 24, 2021 GIESSEN, Prototyp
Nov 25, 2021 HEIDENHEIM, Cafe Swing
Nov 26, 2021 VS - SCHWENNINGEN, Spektrum
Nov 27, 2021 KARLSRUHE, Nun
Nov 28, 2021 STUTTGART, Merlin
Nov 29, 2021 CALW, Hotrod
Nov 30, 2021 MAINZ, Schon Schön
Dec 1, 2021 TÜBINGEN, Sudhaus
Dec 2, 2021 MUNICH, Milla
Dec 4, 2021 BURGKUNSTSTADT, Roesla
Dec 5, 2021 BERLIN, Tennis Bar
Web: www.danielbenyamin.com / https://www.facebook.com/danyelbenyamin
Source: Press Relase