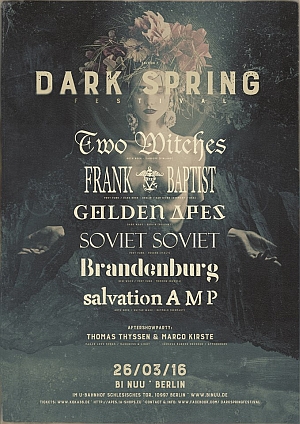 Bi Nuu, Berlin, Germany
26th March 2016
Dark Spring Festival 2016 with Two Witches (FIN), Frank The Baptist (USA/GER), Golden Apes (GER), Soviet Soviet (IT), Brandenburg (RUS) and salvation AMP (GER)

Now, at the dawn of its 7th recurrence, it is more than validly to claim that Berlin's Dark Spring Festival has been established by now as a Can't-Miss-date for all lovers of sinister guitar sounds, be it Gothic Rock, Post Punk, Dark Wave or Shoegaze – a status well deserved over the years. What started as a one-time, offhanded idea by Berlin's home-grown Dark Wave outfit GOLDEN APES, became a highly regarded annual attraction for people from all over Europe, appreciating the festival's concept of finding and picking its requested artists beyond the mainstream's usual suspects for offering a musical mixture of appropriate luminaries and interesting new names and projects alike.
This year's billing includes the Finnish Goth Rock legend TWO WITCHES, whose music has been a regular feature of the European Dark scene for almost 25 years now as well as the German-/ American-Dark Wave-Alternative project FRANK THE BAPTIST, who released their critically acclaimed 4th long player 'As The Camp Burns' recently. A breath of fresh air is given by the Muscovite gents of BRANDENBURG, who will perform their melodic Post Punk on the festival's stage exclusively for the first time outside of Russia unlike the Italian triple SOVIET SOVIET, who have been a sight for sore eyes on stages throughout the European heartland for quite a couple of years already.
And also SALVATION AMP from Germany are no strangers to the current alternative music scene, arisen from the ashes of the 90s Goth formation HOME OF THE HITMAN, they have performed dozens of live shows and released two eminent albums since their comeback in 2010. And last but not least the hosts themselves, GOLDEN APES, are insisting on debuting some new tracks of their forthcoming album, seeing the light of the day later that year.
That all is topped off with an after show party run by DJs Thomas Thyssen and Marco Kirste, whose names and reputations within the German Dark scene are indicated by events like Pagan Love Songs, Darkness & Light or the Icecave parties in Dresden. Set again in the proper atmosphere of Berlin's BiNuu (the former famous Kato Club, located in the dark heart of Kreuzberg), the 7th Dark Spring Festival will open its doors on Saturday, March 26th 2016 at 6pm. Tickets will still be available at the door.
Additional Festival Information

Doors: tba
Start: 18:00
Ticket price: from 27 EUR
Tickets online:
www.koka36.de
/
www.apes.1a-shops.eu
Info & News:
www.facebook.com/darkspringfestival
/
https://www.facebook.com/events/898792296847753/