Airport Drispenstedt, Hildesheim, Germany
13th to 14th August 2016
M'era Luna 2016 with Within Temptation, The Sisters of Mercy, In Extremo, VNV Nation, Filed of the Nephilim, Diary of Dreams, IAMX, Die Krupps, Zeromancer, Diorama, Cassandra Complex, Agent Side Grinder and many more

For the sixteenth time the M'era Luna Festival, one of the biggest dark music festivals of Germany, Europe and the world, invites people to an amazing and diverting camping - weekend full of musical acts, lush fashion shows, the medieval and clothing fair, scene related readings and of course late night parties. This all takes place at the grounds of the regional airport Hildesheim Drispenstedt, near Hannover.
The M'era Luna Festival is known and appreciated for its excellent music program (Goth, Metal, Industrial), the familiar atmosphere, the medieval and gothic clothing and accessory fair, diverse food and beverage offers and the short distances at the festival grounds. This all together makes the M'ERA LUNA Festival a special event for visitors from all over the globe. Every year, around 25,000 fans with extravagant outfits travel to Hildesheim, a town that enjoys to welcoming the guests ever since the first festival took place. This festival is also known for surprising the visitors with bands or musician you usually don't have the chance to see at likewise festivals.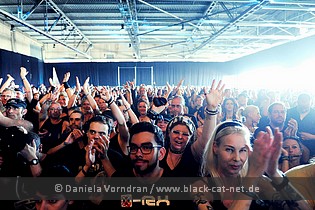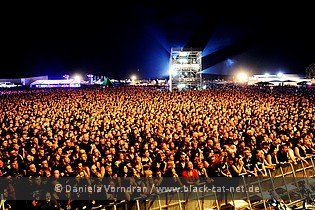 The line-up once more contains old heroes as well as the popular acts that appear quite frequently on several festivals of the scene, as well as the smaller, not so well known bands and musicians. Also you will find an accomplished combination of old stagers and younger acts. The festival that takes place at Drispenstedt Airport Hildesheim on August 13th & 14th 2016 presents once again a well- balanced blend of different musical genres so that everybody will feel perfectly entertained.
Besides the growing list of musical acts on two stages the M´era Luna Festival 2016 hosts special attractions like a medieval fair, scenic book readings, fashion shows, a full size gothic market and late night parties in the Disco Hangar, hence showing the dark scene in all its facets and once more making it to the centre of the dark culture in Germany and all over the globe.
Line-up

Within Temptation, The Sisters Of Mercy, In Extremo, VNV Nation, Fields of the Nephilim, Eisbrecher, Apocalyptica, The Lord Of The Lost Ensemble, Faun, Diary Of Dreams, Oomph!, Combichrist, IAMX, Hocico, Die Krupps, Suicide Commando, Lacrimas Profundere, Letzte Instanz, [:SITD:], Zeromancer, Diorama, S.P.O.C.K., Gothminister, Stahlmann, Cassandra Complex, Beborn Beton, Noisuf-X, Centhron, Rabia Sorda, Hämatom, Agent Side Grinder, Heldmaschine, A Life Divided, Chrom, Me The Tiger, Aeverium, Erdling, Vlad In Tears, Essence of Mind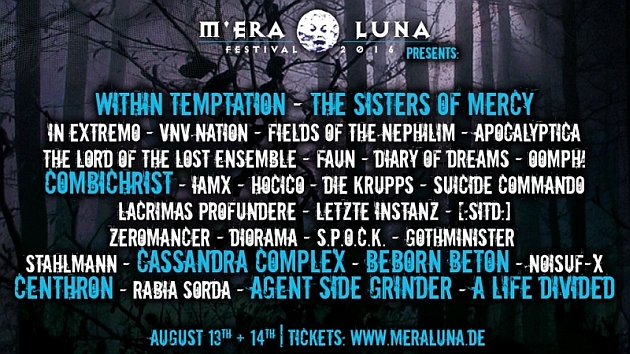 Tickets

Festival Tickets for both festival days are available for 94,- € incl. fees and garbage deposit via the homepage
www.meraluna.de
or the ticket hotline: +49 (0) 180 5-853 653 (0.14 €/min / Mobil max. 0.42 €/min).
M'era Luna Jewellery Collection:
http://www.meraluna.de/de/schmuck/
Get more information on the festival at
www.meraluna.de
and watch the festival trailer at
https://youtu.be/PDrEfM3pzwc