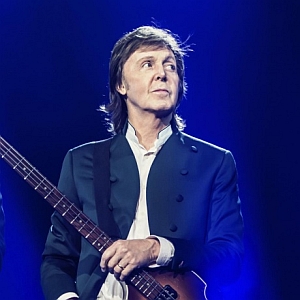 Esprit Arena, Düsseldorf, Germany
28th May 2016
Paul McCartney – "One on One"

The first of the new European tour dates are confirmed! As in past tours also the "One On One" tour will again offer a stunning new set and tons classics of the popular music catalogue of today's musical history. It includes the entire career of Paul McCartney - whether as a solo artist or as a member of Wings or of course as a Beatle - and some surprises.
The "One On One" European tour is PAUL MCCARTNEY's first appearance in Düsseldorf since 1972! On Friday, the 10th of June Paul McCartney will return to Munich - more than ten years after his last visit there. Then, he will complete his last concert in Germany in Berlin - his last appearance there is dated 2009. On 14th June he will perform in the legendary Waldbühne where he had last played in September 1993. "One On One" is the first new tour since the massive success of the "Out There" tour which ended up with the first and most impressive concert of PAUL MCCARTNEY in Buffalo, NY. One of the highlights was certainly PAUL MCCARTNEY debut concert in South Korea.
To see PAUL MCCARTNEY live is an incomprehensible experience how you wish a rock show should be and so much more: almost three hours full of the biggest moments of 50 years rock history, a lot of songs that form the soundtrack of our lives. With his long-time band, which all have more than ten years played together - Paul "Wix" Wickens (keyboards), Brian Ray (bass/guitar), Rusty Anderson (guitar) and Abe Laboriel Jr. (drums) - is a unique experience that can change life.
The "One On One" tour will demonstrate a new design and a new production, which as always will be equipped with state of the art audio and video technology. Massive screens, lasers, fireworks, and - of course - and a fantastic selection of the best songs guarantee a PAUL MCCARTNEY show, which exploits the full potential of live music - an evening you will not forget. To make you still more curious - PAUL MCCARTNEY launches its "One On One" world tour in Fresno, California, with performances of BEATLES classics for the first time. So you can look forward to hear some of the songs that wrote history played live by the master himself.
Additional Concert Info

Doors: 18:00
Start: 20:00
Tickets are available from € 76 - € 233,50 at
EVENTIM
More information:
www.paulmccartney.com
,
www.prknet.de
and
http://concertteam.de/?view=artist&id=281