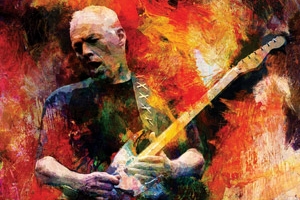 Jazz Open, Stuttgart, Germany
14th July 2016
David Gilmour

Ever since he joined the four founding members of PINK FLOYD to support Sid Barrett, at that time lead guitarist, singer and songwriter of the band, on stage in 1968, DAVID GILMOUR has become one of the big names in rock history, being inducted into the US Rock and Roll Hall of Fame in 1996 as a member of PINK FLOYD and ranked at No. 14 on rock magazine Rolling Stone's list of the greatest guitarists of all time in 2011.
Widely known for his vocal parts and extraordinary guitar work for PINK FLOYD, who are one of the world's most famous progressive rock bands, having had their greatest success in the 1970ties with albums like 'The Dark Side Of The Moon', 'Wish You Were Here' and 'The Wall', his solo work is more blues - driven and somewhat more of an down-to-earth style but still wide-ranged and genuinely brilliant.
Touring the world after last year's release of his very successful 4th solo album 'Rattle that Lock', DAVID GILMOUR will play two open air shows in Germany this summer: An already sold out concert at the Jazz Open in Stuttgart on July 14th and a show in Wiesbaden on July 18th.
Personalised tickets are available at
EVENTIM
and at
Ticketmaster
. Further Information:
http://www.livenation.de/artist/david-gilmour-tickets
,
http://www.jazzopen.com/programm-2016/david-gilmour/