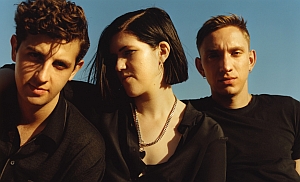 Mitsubishi Electric Halle, Düsseldorf, Germany
28th February 2017
The XX - "I See You Tour 2017"


THE XX are coming back to Germany for some concerts in 2017! Their new album, named 'I See You', is almost ready. The record was made at five different venues - New York, Marfa, Reykjavik, Los Angeles and London - friends, family and fellow travelers were invited to watch the production. 'I See You' is probably the best album of the band so far! It arose in a time when THE XX moved both as a band and as individuals outside their comfort zone. This is reflected not only in the new production method but also in the further development of the three.
During the last few years, Romy has moved to Los Angeles to work with some of the world's best songwriters. Oliver was the face of a global campaign by Dior. Jamie released his debut solo album, the Grammy-nominated 'In Color'. Jamie also worked as a producer with artists like Frank Ocean, Alicia Keys and Drake. But THE XX are undeniably strongest when the three get together. 2.7 million worldwide-sold albums of their two albums so far, Mercury Price victory for their debut album 'xx' and THE XX is one of the three British bands that made it gold status in the US in the last decade. In addition, the 400,000 ticket sales for the Coexist tour and two golds for the two albums in Germany!
'I See You', the third album of THE XX, was recorded in the period from March 2014 to August 2016. All songs of the album were written by Jamie Smith, Oliver Sim and Romy Madley Croft. All lyrics of the album were written by Oliver Sim and Romy Madley Croft. The album was produced by Jamie Smith and Rodaidh MacDonald (who also worked on THE XX debut album). The first single is 'On Hold' which is available here in the stream at
https://youtu.be/1_oA9UmRd4I
!
Additional Concert Info

Doors: 18:30
Start: 20:00
Tickets for the concerts in Hamburg, Munich, Berlin, Frankfurt and Dusseldorf will be available on regular sale on Friday, 25th November at 10:00 GMT. Fan Pre-sale starts Tuesday, 22nd November at 10:00 GMT. To gain access to THE XX fan pre-sale, please sign up at:
thexx.info/tour
. An email will be sent to you on 22nd November with ticketing information.
Tickets: can be bought for 36.00€ (plus fees)
Info event:
http://prime-entertainment.de/index.php?id=34&eventid=4246&p=
Info band:
http://thexx.info/
/
https://www.facebook.com/thexx
Confirmed German Dates

12.02.2017 - Sporthalle Hamburg, Hamburg
24.02.2017 - Zenith München, Munich
25.02.2017 - Arena Berlin, Berlin
26.02.2017 - Jahrhunderthalle Frankfurt, Frankfurt
28.02.2017 - Mitsubishi Electric Halle, Düsseldorf
Foto: Laura Coulson