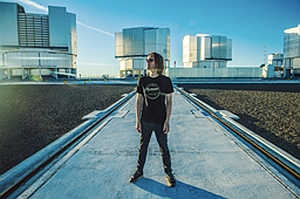 Today, STEVEN WILSON introduced details to his brilliant fifth solo album. 'To the Bone' is another masterpiece out of the hands of founder, singer, guitarist and songwriter of PORCUPINE TREE and the follower to his celebrated 2015 album 'Hand. Cannot. Erase'. Wilson is releasing nothing less than a dynamic and modern pop album. This is quite surprising since he is very well-known for his fantastic Prog Rock. But Wilson as usually takes the freedom he needs. So, his new album is a mix of pushing Rock and ghostly Electronica referencing to the Prog-Pop icons of his youth like PETER GABRIEL's 'So', TALK TALK's 'Colour of Spring' or 'Seeds of Love' by TEARS FOR FEARS.
Musically and lyrically, the album is a high-resolution snapshot of the confused times we live in. The lyrics deal with the paranoid chaos of our post-factual era and the creeping self-hate in a technological society as well as precise observations of the daily routine of religious fanatics of any kind. At the end, he pits a shimmer of hope into our hearts and hints to a way out. After his sold-out tours in the past with legendary shows, STEVEN WILSON comes back to present his exciting sound during more than hundreds shows worldwide. In February and beginning of March, he also comes to Germany:
12th Feb 2018: Frankfurt - Alte Oper
13th Feb 2018; Ravensburg - Oberschwabenhalle
15th Feb 2018: Berlin - Admiralspalast
20th Feb 2018: Hamburg - Mehr! Theater
05th Mar 2018: Essen - Colosseum (sold-out)
06th Mar 2018: Essen - Colosseum (additional date)
Ticket sales will start Friday, 12th May 2017, 11:00 Berlin time. Tickets are available from 33 euros plus charges via
Eventim
,
Ticketmaster
, all known pre-sale offices and via phone +49 (0) 1806 - 853653.
More in
Steven Wilson
and
Porcupine Tree