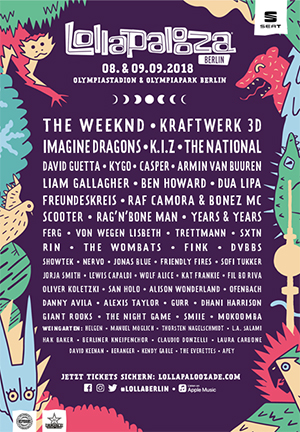 Olympiapark, Berlin, Germany
8th to 9th September 2018
Lollapalooza Festival 2018 with The Weeknd, K.I.Z, The National, David Guetta, Casper,
Armin Van Buuren, Kraftwerk, Imagine Dragons, Kygo, Liam Gallagher, Dua Lipa, Freundeskreis Scooter and many more

The circus has moved on. In its fourth year of existence, the Berlin dependence of the festival franchise Lollapalooza, had yet to find another location in Germany's largest city. This time it is scheduled to happen in the storied Olympiapark and Olympiastadion area, conveniently located inside the Western part of the city. This leaves the hope intact that it will not come to those severe bottlenecks in public transport, which plagued visitors of last year's edition, which took place in the rather remote Hoppegarten.
In terms of line-up, this festival is clearly aimed to attract a younger crowd, so the promotional introduction saying "bands from Alternative, Rap and Punk will rock the Olympiastadion" might be a little misleading, as German Euro-Dance veteran SCOOTER is probably as Punk as the line-up is gonna get. However, there are probably also many interesting acts, as you can glean from the line-up below. And the biggest draw of this festival next to the music is probably the relaxed atmosphere, which leaves little to desired.
Additional Festival Info

LINEUP 2018 - SATURDAY, 08 SEPTEMBER

The Weeknd | K.I.Z | The National | David Guetta | Casper | Armin Van Buuren | Ben Howard | RAF Camora | Years & Years | Ferg | Von Wegen Lisbeth | The Wombats | DVBBS | Jonas Blue | Sofi Tukker | Lewis Capaldi | Kat Frankie | Fil Bo Riva | Oliver Koletzki | Alison Wonderland | Ofenbach | The Night Game | Mokoomba
LINEUP 2018 - SUNDAY, 09 SEPTEMBER

Kraftwerk 3D | Imagine Dragons | Kygo | Liam Gallagher | Dua Lipa | Freundeskreis | Scooter | Rag'n'Bone Man | Trettmann | SXTN | RIN | Fink | Showtek | Nervo | Friendly Fires | Jorja Smith | Wolf Alice | San Holo | Danny Avila| Alexis Taylor | Gurr | Dhani Harrison | Giant Rooks | Smiie
Tickets: 2 day passes are currently available via
Ticketmaster
starting from EUR 139 + taxes
More Information: https://www.lollapaloozade.com