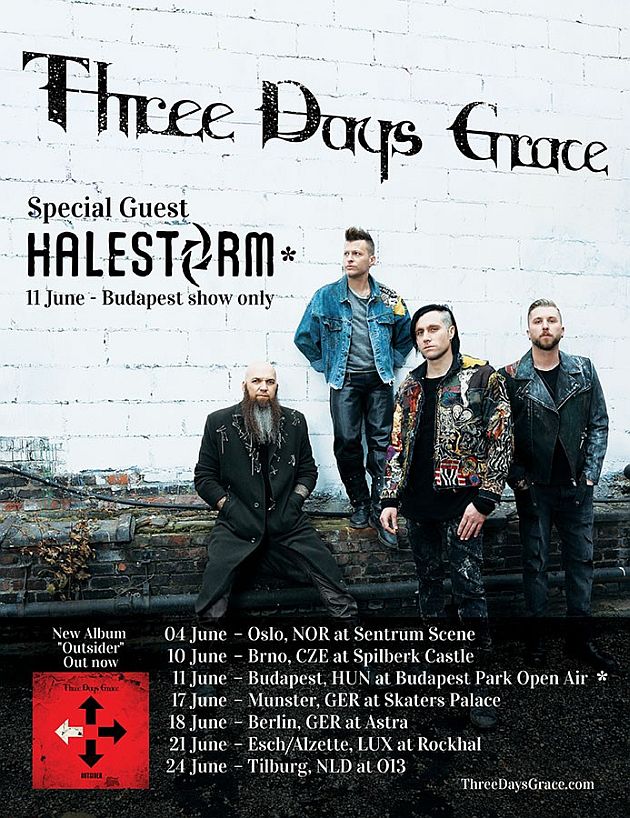 Rockhal, Esch sur Alzette, Luxembourg
21st June 2019
Three Days Grace

Outsiders always leave enduring impressions. By veering away from the pack, these mavericks confidently lead the charge for others to follow. Since 2003, THREE DAYS GRACE has staked a spot amongst the Hard Rock vanguard, quietly breaking records, toppling charts, moving millions of units worldwide, and making history by holding the all-time record for "most #1 singles at Active Rock Radio ever" with 13. The Ontario, Canada quartet - Matt Walst [lead vocals], Barry Stock [lead guitar], Brad Walst [bass], and Neil Sanderson [drums, percussion, keyboards, programming] - continue to blaze that trail on their sixth full-length album, the aptly titled 'Outsider.
"To me, 'Outsider' represents the journey to find your place," says Brad. "The world feels crazy at times. We try to get away from that every once in a while. We do our own thing, and we're comfortable doing it. We have always looked forward - and not backwards. That's an ongoing theme for us here." "It's what we've done in many ways by being on the outside," agrees Neil. "This is all about taking a step back from life's madness without destroying yourself, cutting everyone off, or going crazy. You get a break and find the space to create."
That's exactly what the musicians did in the fall of 2016. Instead of congregating in a downtown Toronto rehearsal space, they initially wrote in a converted garage behind Brad's house located two hours from the city. Eventually, they retreated to Neil's 90-acre farm to further hone ideas. Following daytime snowmobile trips, the guys often sat around bonfires with acoustic guitars, tapping into the wild spirit surrounding them.
As the songs took shape, the band packed up and headed to the remote Ontario's Jukasa Studios. In order to capture that energy, they called upon long-time friends and collaborators. Producers Gavin Brown and Howard Benson returned to the fold, with Mike Plotnikoff engineering and Chris Lord-Alge on mixing duty. As much as it upholds tradition, 'Outsider' represents progression for THREE DAYS GRACE. Marking his second offering as part of the band, Matt showed "a new level of confidence and brought a ton of ideas," according to his brother Brad. Meanwhile, Neil expanded the signature electronic palette, integrating analogue synths and standout programming with the help of Rhys Fulber (FRONT LINE ASSEMBLY).
Additional Concert Info

Doors: 19:00
Start: 20:00
Information & Tickets: https://www.rockhal.lu/events-tickets/rock-pop/show/detail/three-days-grace/
Facebook Event: https://www.facebook.com/events/673167709752877/
More on
Three Days Grace