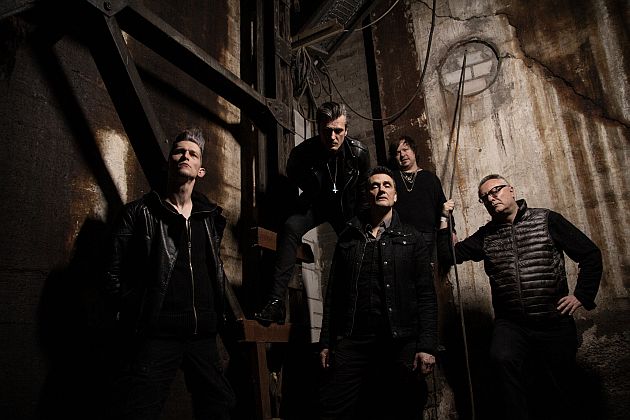 Reflections of Darkness presents DIE KRUPPS in Germany, autumn 2019! When talking about Industrial pioneers, don't miss DIE KRUPPS. Besides KRAFTWERK and the EINSTÜRZENDEN NEUBAUTEN, the band from Düsseldorf was one of the leading pioneers of the Industrial sound, and like no one else they added tool rhythm and machine sound to a steelwork. Not for nothing, DIE KRUPPS founders Jürgen Engler and Ralf Dörper borrowed the name from the Essen heavy industry family Krupp, and called their first album 'Stahlwerksinfonie'. Later, bands like FRONT 242, NITZER EBB or even RAMMSTEIN pulled their inspiration from the crashing tracks of the Electronic Body Music pioneers.
In the year 1991, not only in Germany DIE KRUPPS set clear standards on the field of electronics with hard Rock riffs with their pioneering album 'I'. Several albums entered the Top 20. The heavy guitar sound paired with pushing sequencers turned DIE KRUPPS into the epitome of innovation: Especially that mixture makes their music timeless and is always a guarantee for full dance floors and energetic live shows. Without doubt, the highlights were the frenetically celebrated DIE KRUPPS Japan Tour and the performances at the Wacken Open Air and the M'era Luna Festival.
Furthermore, the entire back catalogue was re-released internationally, and in 2015, the last studio album of the band, 'V - Metal Machine Music', was released which gained enthusiastic reviews from the international Rock and Alternative press. The machines are oiled again: Right now, DIE KRUPPS are working at a new and until now untitled album, which is planned to be released still this year. Of course, the noisemakers go on tour again. In autumn, Jürgen Engler and his companions Ralf Dörper (synthesizer), Marcel Zürcher (guitar), Nils Finkeisen (guitar) and Paul Keller (drums) come to our stages, to connect art, work, reward, music, noise, sweat, and dance with each other.
VIRAL & MANNTRA will be supporting DIE KRUPPS during their tour in November and Dezember.
German tour dates

Nov 21, 2019 Oberhausen - Kulttempel
Nov 30, 2019 Glauchau - Alte Spinnerei
Dec 1, 2019 Berlin - Kesselhaus
Dec 2, 2019 Munich - Strom
Dec 3, 2019 Wiesbaden - Schlachthof (Kesselhaus)
Dec 4, 2019 Hamburg - Logo
Concert ticket sale already started. The price is EUR 30.00 plus fees. Tickets are available at all known CTS presale ticket shops and by phone hotline via +49 (0) 1806/853653 (20 cents per landline call, mobile max. 60 cents/call), at fkpscorpio.com and
eventim.de
.
More information and music at diekrupps.com, facebook.com/diekruppsofficial
More on
Die Krupps
Promo Picture by Vicente Cordero