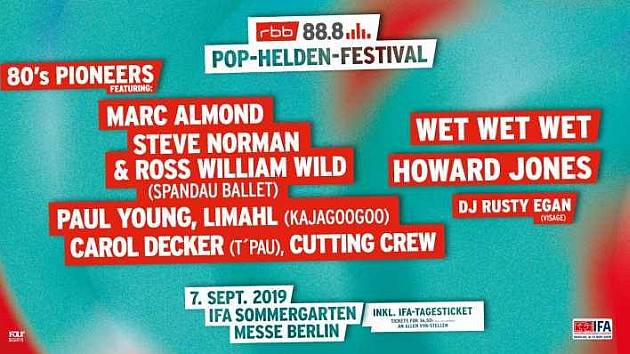 IFA-Sommergarten Open Air - Messe Berlin, Berlin, Germany
7th September 2019
rbb 88.8 Pop-Helden Festival with Marc Almond, Steve Norman & Ross William Wild (Spandau Ballet), Cutting Crew, Carol Decker (T'Pau), Wet Wet Wet, Howard Jones, DJ Rusty Egan (Visage), Paul Young, Limahl

On Saturday, September 7, 2019, RBB 88.8 and the IFA in the IFA S Sommergarten of Messe Berlin will revive the 80s and 90s. Performing artist will be:
MARC ALMOND (SOFT CELL) was last in Berlin in 2017 and gave the farewell concert as SOFT CELL "Say Hello Wave Goodbye" on September 30, 2018 in the sold-out O2 in London together with Dave Ball. As part of the electro duo SOFT CELL, Marc Almond scored 21 million records sold, 5 top ten hits in England alone, two gold and one platinum album. Solo-Hits: 'Something's Gotten Hold of My Heart', 'I Feel Love / Johnny Remember Me', 'The Days of Pearly Spencer', 'Tears Run Rings', 'My Hand over My Heart', 'A Lover Spurned'.
STEVE NORMAN & ROSS WILLIAM WILD (SPANDAU BALLET) - Steve Norman, founding member of SPANDAU BALLET, saxophonist, guitarist, percussionist and songwriter has made a significant contribution to the band's success. To date, SPANDAU BALLET has produced 23 hit singles including 'True', 'Gold' and 'Through the Barricades'. They sold more than 25 million records worldwide. Together with Steve Norman, the current singer of SPANDAU BALLET, Ross William Wild, will be on stage. Hits with SPANDAU BALLET: 'True', 'Through the Barricades', 'Gold', 'Only When You Leave', 'Fight for Ourselves', 'Be Free with Your Love'.
PAUL YOUNG was already in in Berlin (Parkbühne Wuhlheide) June 2019at a smaller 1980s Open Air Festival, as well as in April 2018 in Mannheim. As solo artist he toured Germany was with his great voice last in 2016. In 1983, he released his first solo album, 'No Parlez', which had two mega-hits with 'Wherever I Lay My Hat' and 'Come Back And Stay'. With his second album and the hit single 'Every Time You Go Away' he finally manifested his status as a world star. Hits: 'Come Back and Stay', 'Senza una donna (Without a Woman)', 'Love of the Common People', 'Wherever I Lay My Hat (That's My Home)', 'Everything Must Change', 'Every Time You Go Away', 'Now I Know What Made Otis Blue', 'Hope in a Hopeless World', 'Don't Dream It's Over'.
LIMAHL (KAJAGOOGOO) has rarely occurred in Germany in recent years, mostly on a smaller scale. With KAJAGOOGOO he was only once on a short reunion tour in 2008, but the band soon parted company again. He had his big breakthrough in 1983 as frontman of the band KAJAGOOGOO, who made their debut single, 'Too Shy', a number 1 hit that sold more than 4 million copies worldwide. After two more hits LIMAHL separated from his band and landed with 'The Neverending Story', the title song of the US version of the film 'The Neverending Story', in collaboration with Giorgio Moroder the biggest hit of his career. Solo-Hits: 'The NeverEnding Story', 'Only for Love', 'Too Much Trouble', 'Love in Your Eyes', 'Tar Beach'.
CAROL DECKER (T'PAU) has so far only appeared twice in the 1990s in Cologne and now it is at least the first time since the turn in the East. With her band T'PAU she was constantly on tour for years in England. T'PAU immortalized with the single from their debut album, 'Bridge of Spies'. With 'China in Your Hand', front woman Carol Decker's band hit a # 1 hit and also catapulted the album to the top of the charts. 1.2 million albums were sold and he debut album received a quadruple platinum. Hits with T'PAU: 'China in Your Hand', 'Heart and Soul', 'Valentine', 'Whenever You Need Me', 'Secret Garden'.
CUTTING CREW have been rarely in Germany for years, 2017 was their last time in Berlin; their last tour in Germany was already in 2006 and is thus already a very long time back. CUTTING CREW with frontman Nick van Eede scored high, with #1 hit in the US, '(I Just) Died in Your Arms'. Their debut album 'Broadcast' became a multi-million seller. Hits: '(I Just) Died in Your Arms', 'I've Been in Love Before', 'One for the Mockingbird', '(Between A) Rock and a Hard Place', 'Any Colour', 'The Scattering'.
WET WET WET last performed in Germany on June 24, 2019 as support for PHIL COLLINS, their first appearance in over 20 years in Germany and the last appearances before were 1998 in the context of Nokia Night Of The Proms. WET WET WET made it to the top of the UK album charts. Their first #1 single was a cover of the BEATLES classic 'With a Little Help from My Friends'. WET WET WET landed their biggest success in the 1990s. For the movie 'Four Weddings and a Funeral' they took a cover of 'Love is all around'. Hits: 'Love Is All Around', 'Angel Eyes (Home and Away)', 'Goodnight Girl', 'Sweet Surrender', 'Julia Says', 'Sweet Little Mystery', 'If I Never See You Again'.
HOWARD JONES toured in England, North America and even Asia very extensive and regularly, but has visited in Germany last live in 2010 and was not even in Berlin since the turn. He was successful with 'What is Love', which is still being shot on radios across Europe to this day. It was followed by international hits such as 'Hide and Seek', 'Pearl In The Shell' and 'Like To Get To Know You Well', Howard firmly established in the European music landscape.
Additional Festival Info

Doors: 15.00
Start: 16.00
Tickets are currently available for EUR 41.90 via
Eventim
The ticket is valid on 6September 2019 OR on 07.09.2019 additionally as IFA day ticket - show at the entrance!
More Info: https://www.rbb888.de/veranstaltungen/praesentationen/rbb-88-8-pop-helden-festival.html