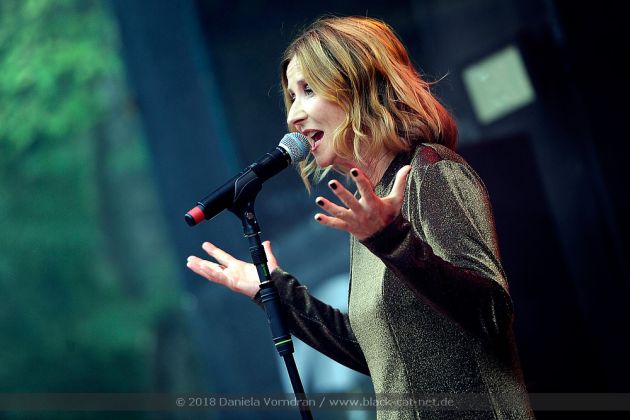 In 1982, the former DIE KRUPPS member Ralf Dörper founded PROPAGANDA. Like DIE KRUPPS, MALE, DAF, FEHLFARBEN and DIE TOTEN HOSEN, PROPAGANDA rose from the vibrant Punk and New Wave movement in Düsseldorf. Together with DJ and producer Andreas Thein and singer Susanne Freytag, the trio started with two songs. In 1983, Michael Mertens, an enthusiastic and professional percussion expert, and up to that time employed by the Düsseldorf Philharmonic Orchestra, and Claudia Brücken came on board. They then signed a contract with the English label ZTT Records, and in 1984, the song 'Dr. Mabuse' was released, which became a commercial success.
New technical possibilities were tried out, especially samplings, that were used before by the producer Trevor Horn in cooperation with ART OF NOISE and FRANKIE GOES TO HOLLYWOOD. The result was an excellent pop hit with forward-looking elements that inspired and defined many artists in the following years. In 1985, the singles 'Dr. Mabuse', 'Duel' and 'P-Machinery' were released, that were very successful in Europe. The belonging album 'A secret Wish' was sold million fold worldwide. The melancholic and with danceable synth beats produced album was crowned with the concise, unique and cool voices of Claudia Brücken and Susanne Freytag. Especially with their voices, the album met the spirit of that time and achieved a significant position in modern music history. After a successful world tour in 1985, the remix album 'Wishful Thinking' was released. In 2010, PROPAGANDA released an extended version of the 'A secret Wish' album and landed a surprising chart success in the UK.
In 2019, Claudia Brücken and Susanne Freytag perform the music of PROPAGANDA, which is especially characterized by their voices, the character und uniqueness of the songs. For only three exclusive shows, they come to Germany and promise first-class entertainment on a musically excellent level. The interpretation of their hits of the 80s and 90s sung by the unique voices of the former band members Claudia Brücken and Susanne Freytag invite to a musical trip; in a time that influenced and formed many performers in later years. The performance in a club atmosphere impresses with a unique intimate and familiar show, close to the audience, danceable, enjoyable to listen.
German Dates
Sep 6, 2019 Berlin – Columbia Theater
Sep 7, 2019 Hamburg – Gruenspan
Sep 8, 2019 Bochum – Zeche